Normally at this time of night you get a post saying "I just got back from blah blah blah" or suchlike. Well, I did not just get back from seeing
The Soiree
,
The Poorfolk
and
The Field Register
at Irene's. There was an in-between period where the dregs of Hurricane/Tropical Storm/Stiff Breeze Ernesto soaked me to the bone as I cycled home, followed by some immersion in a hot bath, some tea and a copy of Ross King's
Michelangelo and The Pope's Ceiling
. Also some listening to Gentle Ben and His Sensitive Side's
The Beginning of the End
. But on to the show. As I walked in (having just bicycled over to Irene's from my place of work near Prince of Wales and Hunt Club Rd.) The Soiree were just playing their last song. I snapped a few pictures, as I usually do.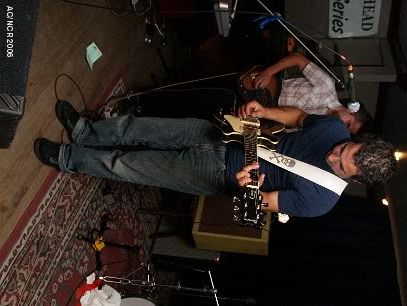 Next up, Poorfolk. I noticed some recording going on, and I shall hazard a guess that live clips of their folk with extra muscle shall appear someplace on the Internet in the not-too-distant future.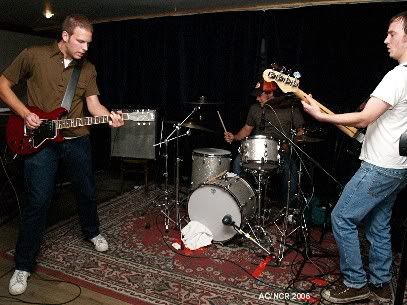 Field Registry's music was also folky, with a heavy dose of slowcore and some lengthy instrumental passages.
Hmm, I hope things won't be as wet when I head to and from work tomorrow - it plays hell on my cycle's brakes.