All right, I said I was going to post some more Gaga Weekend photos. I skipped the showgoing last night since Bluesfest's Monday lineup was of zero interest to me. You want real rock'n'roll action, you head to Yogi's Meatlocker about a month ago. I had hoped to see the entire lineup at the Gaga Weekend's matinee show, but was too tuckered out Saturday morning to arise in time to catch everything. When I arrived The Fucking Machines were playing the small studio room that served as the "side stage" for the afternoon's entertainment, maximum capacity about 30 at a tight squeeze.
Scott sings!
Dave gurns. All these Fucking Machines are pretty tightly show because just out of the frame is a mass of heaving bodies.
Another Dave, shot between elbows.
The next show on the go was The Girlfriends. They dressed fancy for the occasion, with Wolfgang in a sequined skirt, leopard print top, truly alarming mask and blond curls. Nigel went for the tie-dyed hippy gal look, and I have no damn idea what Sammy is wearing. It, too, is alarming. On the positive side, no one hit me with a guitar or fell on me. The world egg shortage is probably to blame.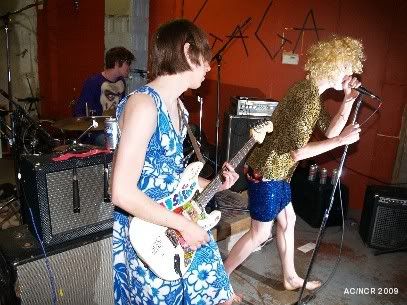 Microphone action!
Wolfgang goes down.
Sammy sings some.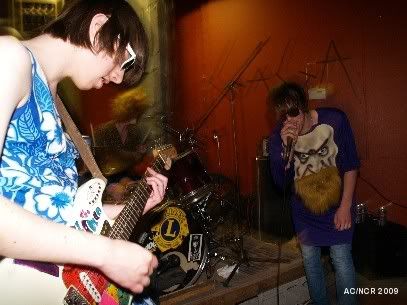 Wolfgang rocks the curls.
And so on!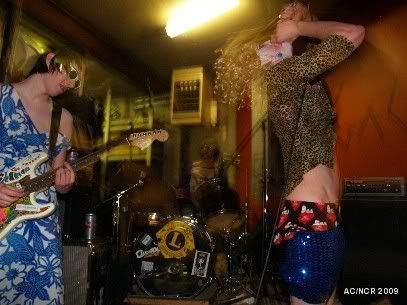 More Nigel!
There was a fair bit of crawling going on.
Stripping action!
The end!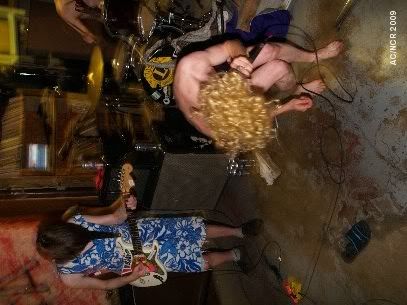 The Fucking Machines are playing again July 23 at the premier of
Judas Feast
, a rock'n'roll cooking show which at one time, and possibly still, was going to use some of my Holy Cobra photos. I'm going to be out of town, so someone let me know how that goes down. Cloven Hoofs, featuring former Mighty Eagle Band members, is also on the bill. The Girlfriends have just returned from a trip to destroy Montreal, so no doubt they'll be up to some unwholesome shenanigans soon.