The folks of Liquor Pig Fest must have some swing with the meteorological powers-that-be. For the first time in many days, it didn't rain in Ottawa, thus allowing extended family, friends and neighbours of The Stumblers to gorge themselves on food and music without getting soaked. This was my first fest-going experience, but by bad luck I had had an unfortunate encounter with some hot and sour soup the evening before and my bowels were not allowing me to eat as much as I'd like. I only had one plate of food, not nearly enough of the swell fixings prepared for the assembly.
I should have taken more food photos.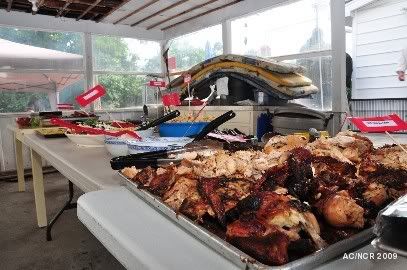 Food, Liquor Pig Fest '09, July 4, 2009
As people were digging in, Lone Pig - a.k.a. Tim - played his opening set. There was a cover of lyle Lovett's
Family Preserve
in there somewhere.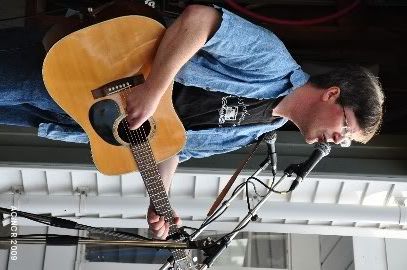 Lone Pig, Liquor Pig Fest '09, July 4, 2009
Then The Stumblers took a turn. You can't really make him out, but drummer Chris did a lot of the grilling.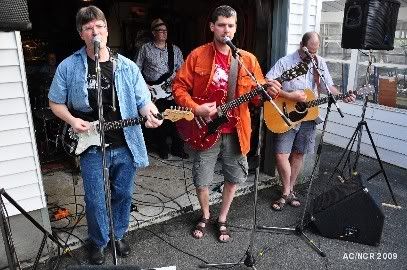 The Stumblers, Liquor Pig Fest '09, July 4, 2009
They were followed by Vapourizer, who looked quite a bit alike.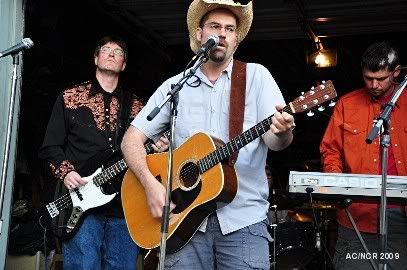 Vapourizer, Liquor Pig Fest '09, July 4, 2009
Next, the fifty-fifty draw. I didn't enter, which was probably a good thing since my guess would have been way off.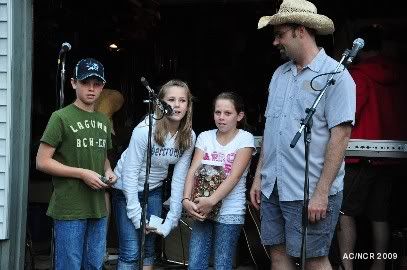 Fifty-fifty draw, Liquor Pig Fest '09, July 4, 2009
Steve Stacey played some country tunes next, including Johnny Cash, along with his own tunes about women, drinking and cars. It was getting a bit nippy, but he still went barefoot as is his wont. He'll be taking part in the singer-songwriters circle at the Elmdale on Wednesday.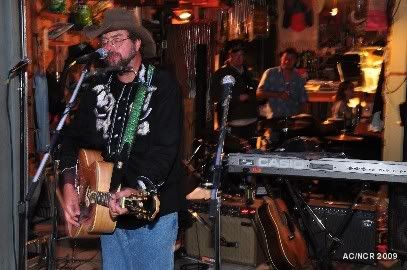 Steve Stacey, Liquor Pig Fest '09, July 4, 2009
Then Jehan Khoorshed finished things off with some nice Beatle-esque acoustic pop. There was actually a Beatles cover, of
You Can't Do That
. He was joined by Matt Ouimet on guitar, lap steel, bass and drums (not all at once). Jehan's going to be at Zaphod's the very same Wednesday, by the way.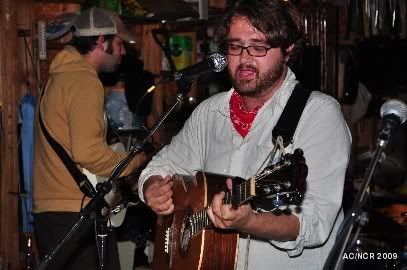 Jehan Khoorshed, Liquor Pig Fest '09, July 4, 2009
I could have gone right home (it was about 10:30), but Rob Porter's new band 40 watt Monkey was performing at Irene's so I decided to check that out since I enjoyed their new CD,
The Oshawa Tree
so much. They remind me a bit of Guided By Voices and other early 1990s college radio rock-pop, and they didn't do much to allay the comparison by covering both GBV (
Game of Pricks
,
The Brides Have Hit Glass
) and The Replacements'
Left of the Dial
.
J Todd, Rich Haller and Rob Porter are joined by Town Cryer Jeff Tanguay, who's off to the right on bass.
40 watt Monkey, Irene's July 4, 2009
A mighty fine evening.