What wonderful weather to go and see a show ... inside. As I was making my way home from the gym around 4 p.m. I could tell the wind whipping things around boded ill, and with nothing of tremendous appeal happening down at Bluesfest I decided to wait for the show at Mavericks. The place was a little empty when I arrived, but as the minutes clicked down to the show there was a sudden inrush of people
Zebrassieres
kicked things off with some of their energetic garage-pop. Apparently Farfisa toucher Sarah is headed back to Calgary in August; but the current lineup still has a couple of shows to go - one in Wakefield and one at 854 Bronson at the end of July.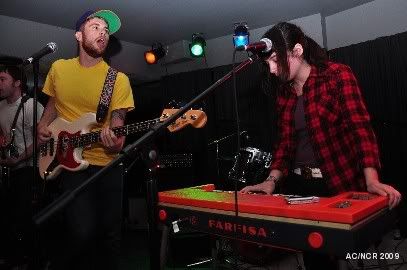 Zebrassieres, Mavericks, July 17, 2009
Next up were
The Bigmuffs
, a heavy and somewhat quirky band with a lead singer whose voice reminded me of The New Bomb Turks. There was some interesting space rock lead guitar and a lot of heavily distorted chords.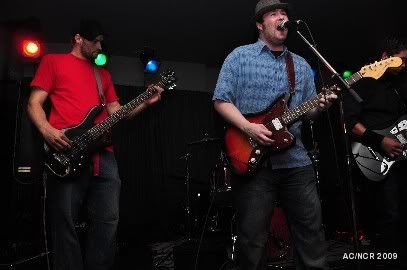 The Bigmuffs, Mavericks, July 17, 2009
I can't recall if I've mentioned Mihijlo of Beach Blankets' sideline in rap. As it turns out
Babble Goons
, the hip hop foursome of which he is a member, was the third act on the bill, and kicked it out in fine style. They were down a man, so Enoch Resonance of Syllable Sekt filled out the lineup (though you can't really see him in either photo).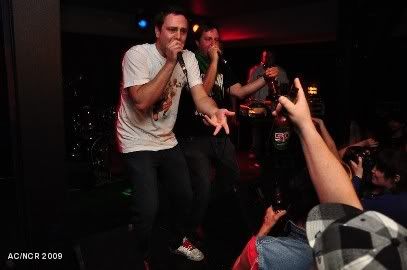 Babble Goons, Mavericks, July 17, 2009
DJ Grusm donned a mask for the big show finish.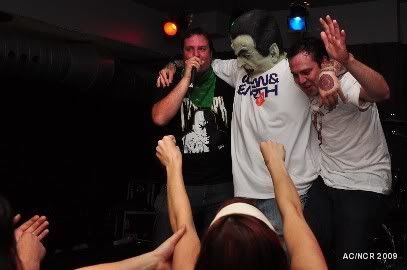 Babble Goons, Mavericks, July 17, 2009
Hellbros
finished things off with a typically fierce yet funny set of hardcore metal. They always attract a dedicated coterie of fans, but I'm perplexed as to why they aren't bigger locally - and not-so-locally, come to that.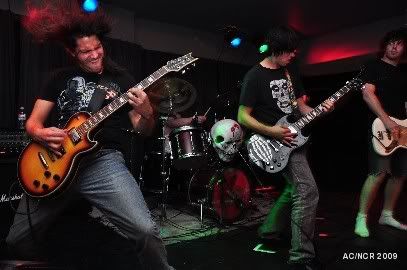 Hellbros, Mavericks, July 17, 2009
It was a really fun and varied evening - and best of all, dry (except for all the drinking going on).
Show reminder: Red Light Saints and Keyotone perform tonight at Mavericks; Bloodshot Bill brings his shiny new CD to the Elmdale House; The Brandon Paris Band and Epyllion play Zaphod's; The Hammerheads get funky at The Rainbow.
I never thought I'd see the day: Le Nombre are returning for an Ottawa show - they're slated to play The Dominion Sept. 19.