Another year, and another Bluesfest wrapped up. This was one of the less-interesting ones, but that's mostly because it stands in the shadow of last year's effort and a few stellar years at the City Hall location with The Birdman Stage. This Sunday was a bit of an afterthought itself. I get the impression the festival piles in the blues acts in the last weekend for the folks who were attending when the festival kicked off 15 years ago.
Things began for me around 4 p.m. with Wichita, Kansas duo Moreland & Arbuckle (okay, so they're really a trio with drummer Brad Horner, but you're going to have to wait for a photo of him). They put on a very spirited set of harmonica blues twinned with distorted guitar, including a cigarette box model. Don't be fooled by the tie-dye, this was real gutbucket stuff, including a fine version of Little Walter's
Rollercoaster
.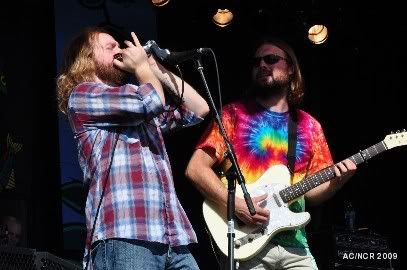 Moreland & Arbuckle, Black Sheep Stage, Bluesfest, July 19, 2009
I'd heard that Larry McCray was a guitar whiz, so I went over to the Fast food Chain Stage to check out his set. He was okay, and certainly knows how to work the frets, but he lacked M&A's primal edge.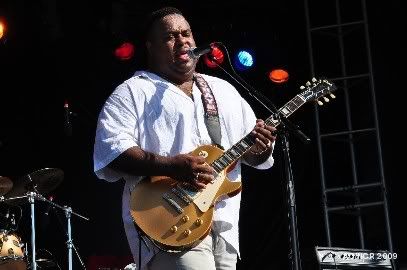 Larry McCray, Subway Stage, Bluesfest, July 19, 2009
Then I popped over to the Music-Themed Eatery Stage to see Montreal's
Magneto
. Though they describe themselves as ambient jazz, they profess an admiration for DJ Shadow and Calexico. They sounded pretty good, but I was a trifle non-plussed by their performance of Miles Davis'
Freddy the Freeloader
with Bob Taillefer, even if it's the 50th anniversary of
Kind of Blue
.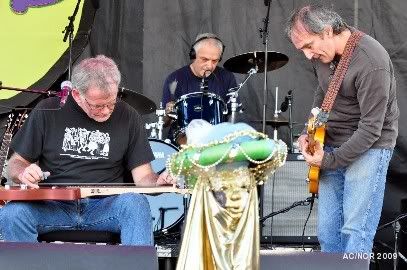 Magneto, Hard Rock Stage, Bluesfest, July 19, 2009
I decided to go over and grab a good spot for Deer Tick, whose writeup described them as a "rock, country, blues, grunge, and cosmic experience." I didn't think they sounded all that great, and frontman John McCauley admitted that a late arrival had made them miss out on a decent soundcheck. After a few songs I wandered off in search of food.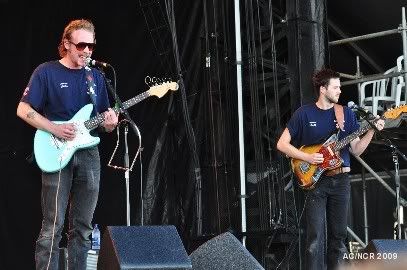 Deer Tick, Rogers Stage, Bluesfest, July 19, 2009
My next destination was the Giant Financial Institution Stage to see Handsome Furs. I really enjoyed the set they placed last time they were in town at Mavericks, and this one was just as energetic, with Alexei Perry doing her usual stretching and bouncing (suffering a bit of a wardrobe failure in the process, though of what exact nature I couldn't tell).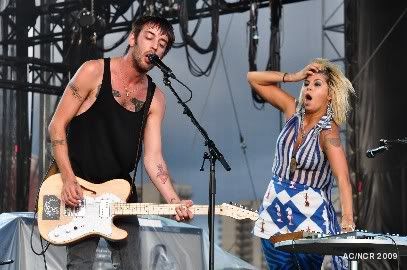 Handsome Furs, MBNA Stage, Bluesfest, July 19, 2009
Next up was The Dead Weather. Yes Jack White's new band. They attracted a huge crowd which seemed to be really into their stomping post-blues. Allison Mosshart is certainly an ace frontwoman, perching on monitors and waving her shaggy black hair hither and yon. Having Dean Fertita of Queens of the Stone Age and The Greenhornes' Jack Lawrence on bass doesn't hurt either. Unfortunately I couldn't really get into it. It was a fab show to watch, but not so pleasing to my ears.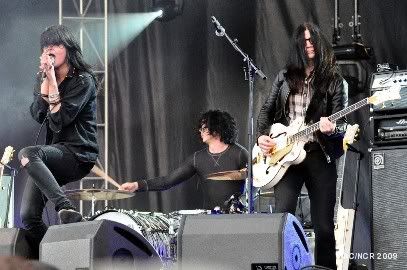 The Dead Weather, Rogers Stage, Bluesfest, July 19, 2009
After about 30 minutes of White and company I walked off to see Dave Alvin and The Guilty Women. I still regret missing all but the last few moments of his last Bluesfest set, back when it was at city hall and he was accompanied by The Guilty Men. It was a very capable set, which concluded with a cover of
Que Sera, Sera
. Among the Guilty Women was FCindy Cashdollar on lap steel - she was here last year with Redd Volkaert.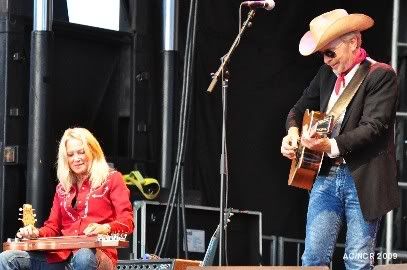 Dave Alvin and The Guilty Women, Subway Stage, Bluesfest, July 19, 2009
The rest of the evening kind of trickled away. I went to the main stage to watch The Yeah Yeah Yeahs, didn't get into it, traipsed past Jennifer Warnes set on the Blacksheep Stage, wasn't too thrilled with that either, wandered back to watch The Yeah Yeah Yeahs, then decided to call it an evening, stopping only to take a picture of Buckwheat Zydeco.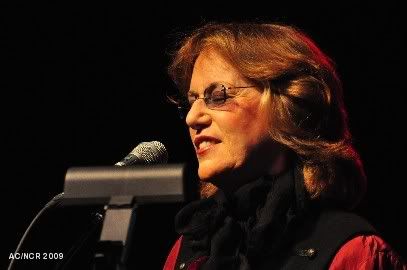 Jennifer Warnes, Black Sheep Stage, Bluesfest, July 19, 2009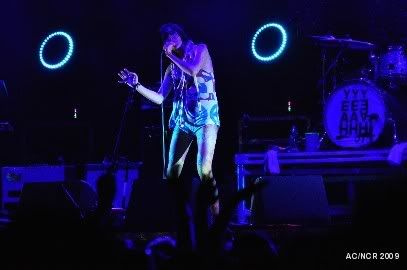 Yeah Yeah Yeahs, MBNA Stage, Bluesfest, July 19, 2009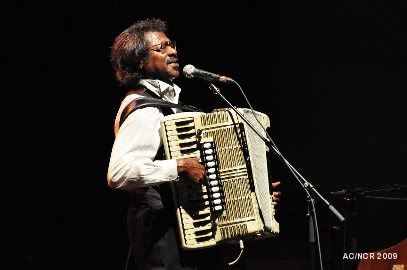 Buckwheat Zydeco, Subway Stage, Bluesfest, July 19, 2009
After that, it was time to call it a festival.