It's that time of year again - time to take two weeks off work to see myriad musical acts introduced by Radio DJs who have mostly never heard of them before, time to avoid food concessions like the plague, time to watch the skies for impending meteorological doom - in other words, time for Ottawa's Cisco Systems Bluesfest. The weather certainly wasn't looking too friendly when I headed out my front door at 5:30 p.m. and sure enough when I hit Somerset St. it started to rain with vigor. There was even a crack of thunder, and I had visions of being turned away at the gate. No such worries, though. It had let up by the time I arrived, and it had the beneficial effect - for those of us who like a little elbow room - of scaring off less determined music fans. Thus, I got into Bluesfest without a wait, there were no lines to scan my ticket, and I was standing in front of the Telecommunications Giant Stage before Amanda Rheaume cranked things up, instead of halfway through her set.
Amanda's sounding better and better each time I see her - perhaps because such viewings tend to take place at yearly intervals. All that international travel must be sharpening her skills.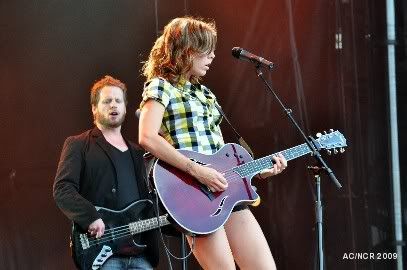 Amanda Rheaume, Rogers Stage, Bluesfest, July 8, 2009
I split after a few minutes because I wanted to see Toronto's Flash Lightnin on the Black Sheep Stage. I obviously left too early because they were still busy soundchecking whan I arrived. They played Mavericks a while back and impressed me with their Raging Slab style power trio blues. They've been back to Ottawa a couple of times since and seem to have made a few fans because the plaza filled up pretty quickly. They undoubtedly made a few more admirers with another tight set.
Flash Lightnin, Black Sheep Stage, Bluesfest, July 8, 2009
I had nothing better to do, so I then made a stop at the Fast Food Chain Stage to watch Blue King Brown. I had vague hopes they might be a grizzled American bluesman, but in fact they're a multi-member Australian political reggae collective. The band sounds good and frontwoman Natalie Pa'apa'a has an interesting look, but I can't say I found her a compelling singer.
Blue King Brown, Subway Stage, Bluesfest, July 8, 2009
After a couple of BKB tunes I walked over to the Telecommunications Giant Stage to grab a good spot to watch The Black Keys. They attracted a very large and enthusiastic crowd and put on a sharp set. They aren't my favourite charged up blues duo (granted it's a crowded field) but you can't fault their performing chops.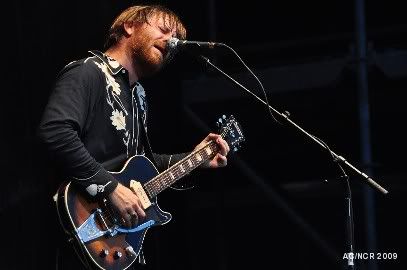 Black Keys, Rogers Stage, Bluesfest, July 8, 2009
I spoke to a lot of people who were eagerly awaiting a chance to see Jeff Beck. I'm a fan too, but I confess my interest tailed off somewhere in the mid-1970s. Instead I returned to the Fast Food Chain Stage to see legendary British progressive outfit Van Der Graaf Generator. The turnout was not large, but there was a fairly devoted fanbase in evidence - I also heard a lot more French spoken in the crowd. Peter Hammill (that's him below), Hugh Banton and Guy Evans sounded good, but I confess that without David Jackson's saxophones something was missing for me.
Van Der Graaf Generator, Subway Stage, Bluesfest, July 8, 2009
Once again I snuck away, this time to check out Jeff Beck - how many opportunities will I get do that, right? There was of course a sizable crowd between me and the Giant Financial Institution Stage, and that always puts a damper on my enjoyment of an act. Beck may be a guitar wizard but I really wasn't feeling it.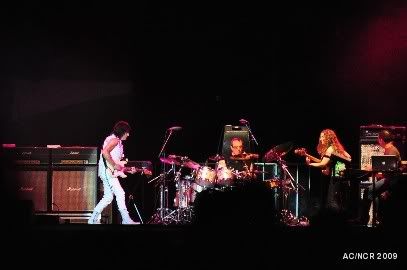 Jeff Beck, Bank of America Stage, Bluesfest, July 8, 2009
The best plan for those bored at Bluesfest is to make one's way to the Black Sheep Stage; particularly if there's a Latin American or African act on stage. Thus I made my way, there, stopping to listen to a bit of New Orleans roots rocker Eric Lindell en route at the Music-Themed Eatery Stage.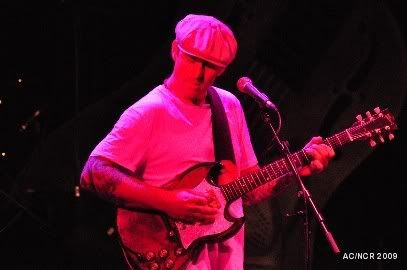 Eric Lindell, Hard Rock Stage, Bluesfest, July 8, 2009
It was salsa time at The Black Sheep Stage with Paris-based Sergent Garcia. Once upon a time Sergent was a member of French drum machine punks Ludwig von 88, now he's rocking Cuban style, with a modern twist. He had the crowd bouncing and dancing with no trouble thanks to his crack band of Cuban and French musicians (plus one bassist from Guyana) That's him below in the red shirt. The band is performing tonight at Ritual Nightclub on Besserer, opening for Rjd2. I'm guessing that will be a party and a half ... (
Flash update, it seems Rjd2 couldn't make it, so Sergent and Co. will be opening for Clinton at the free stage instead
[Update to the update, Rjd2 is now at the Whiskey at midnight]).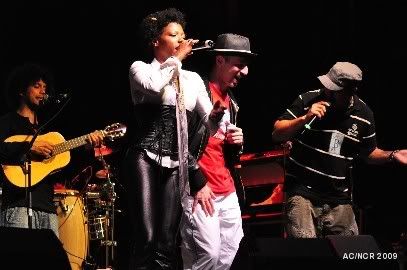 Sergent Garcia, Black Sheep Stage, Bluesfest, July 8, 2009
Not a bad first day. I'm looking forward to The Chaffey Brothers and Iron & Wine today.
Show reminder: I'm going to guess that things will be nuts in the Byward Market as the Bluesfest starts its first in a string of free shows there with a performance by Funkadelic mainman George Clinton. There's also a host of other Bluesfest-connected shows in various venues. Elliott Brood, Matt Mays and Think About Life stand out for me. Elsewhere The Creeps and Fear Of Lipstick rock The Atomic Rooster. The Backsliders slide into the Elmdale House.