Yesterday was my only day off this week, so it's good that there was a show waiting at the end of it since there was never a spare moment. This headlining gig by Howie Beck comes to us courtesy of Matthew from i(heart)music, and judging from his on stage banter, it's a relatively rare one in these parts. The opener was local folk duo For The Fairest, and included a set from Montreal chanteuse Angela Desveaux.
For The Fairest put on another good set. Like the last time I witnessed them, performing along with New Teeth last year at Zaphod's I was struck by Steph Sears strong singing. I still think that drummer Jean-Guy Menard would do better in a full-band setting, as he's quite a dominating presence behind the kit, but he was somewhat less distracting this time around. Also distracting the fact that Steph was performing with wet feet thanks to a hole in her boot. I can sympathize, sister.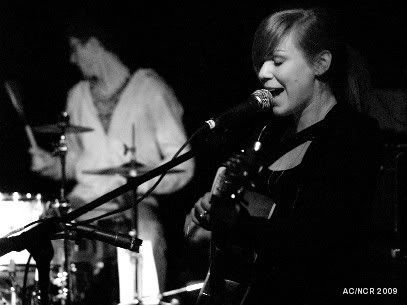 For The Fairest, Cafe DeKcuf, March 26, 2009
I've seen Angela Desveaux before as well -
it was some years ago
, performing under the name of Lily Pearl with the Sonny Best Band on the Birdman Stage at Bluesfest in 2004. That show may also have been the first time I saw her bassist Eric Digras ... he was also playing bass in Bionic, and I can't recall if I first caught them before or after. Her guitarist Mike Feuerstack is of course well known to fans of the Ottawa music seen for his roll in Snailhouse and other groups, and a good portion of the audience was made up of local musicians (the other part was all photographers ... just kidding). The other member of her band is Gilles Castilloux, who also produced her new album
Angela Desveaux and the Mighty Ship
. The title track is about her grandmother's first husband, who was lost at see. "If that hadn't happened, I wouldn't be here," she noted. "So it was a happy ending," quipped Mike. There's still a bit of country in her sound, but what really struck me was how her voice sounds a bit like Chrissie Hynde. They finished their set off with a cover of The Pretenders'
Kid
, so I guess the similarity has not gone unnoticed elsewhere.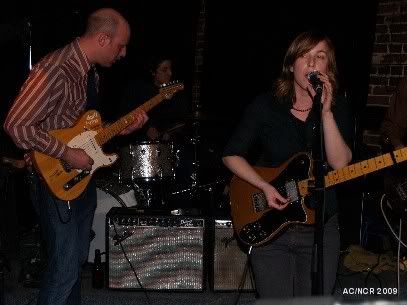 Angela Desveaux, Cafe DeKcuf, March 26, 2009
Contrary to the solo picture below, this was actually a full band effort, including bassist Dennis Mohammed (last seen on this blog performing with Danny Michel at Bluesfest), Bryden Baird (who's been known to hang around with Feist, Jason Collett and that crowd), jazz-drummer-about-T.O. Kieran Adams and ace guitarist Dean Drouillard. This was his first show in Canada in a few years and a first with a band, so he apologized in advance for any unscheduled stops and starts. They did have to start over on onne tune, which Howie introduced with a story about the guy he based it on. The gent in question was apparently a jerk as a kid, and grew up to be a jerk as an adult. "I've remembered the story, but now I have to remember the song" he said after a few bars.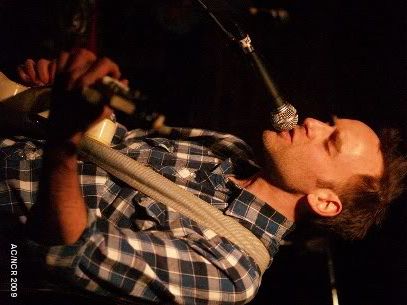 Howie Beck, Cafe DeKcuf, March 26, 2009
There wasn't a huge turnout, but the folks who missed it should at least be able to catch Beck's set on CBC Radio 2 sometime since it was recorded for broadcast.