Another late night, another troll through the old back catalogue ... there's a few things going on today, but only one band I've laid eyes on - and that only once.
The Allrights
are performing tonight along with
The Weathermakers
and
The Balconies
at Irene's.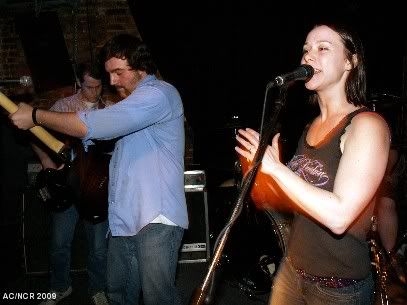 The Allrights, Cafe DeKcuf, April 21, 2007
Bane
,
Cruel Hand
, Alaskan and
End of a Year
will be entertaining the younger set at Babylon with their hardcore hijinks.
Break the Fourth Wall
,
Deadwalk
,
Texas With a Dollar Sign
,
Feverbeard
,
Hunter City Madness
and
Great Knights
are performing at The Bayou; The Urban Aesthetics, The Ethics and Broadcast Radio play Zaphod Beeblebrox. The Jivewires jump to it at The Rainbow; Lonesome Paul and The Unknown Wrestler are at the Elmdale House.
Wax Mannequin
does his thing at the Avant-Garde Bar. If you're downtown around noon you can also check out Kyrie Kristmanson at Compact Music (the one at 190 Bank St. near Gloucester).