It's horrible to think the last time I managed to see a show was February 26, unfortunately events and last-minute show cancellations conspired to keep me out of the clubs. At least my return to the scene - Zaphod Beeblebrox's free showcase, to be precise, to see
The Sheepdogs
,
Heidi Happy
,
Songs From a Room
and
The Jay Spectre
- was graced by four capable-to-excellent sets. Unfortunately a lot of people stayed away ... either they're all off in Cancun, or they're building their strength for St. Patrick's Day.
First up were local duo
Organ Eyes
. What I heard of them online made them sound like a fuzzed-up folk duo. They're still a folk duo, quite a young one, but their show was mostly fuzzless, and made me think of Vashti Bunyan.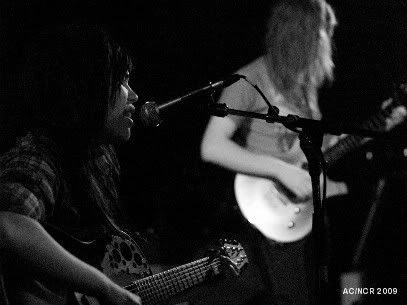 Organ Eyes, Zaphod Beeblebrox, March 16, 2009
They were followed by Toronto's
The Jay Spectre
, who take some funk, add ska, throw in some pop and shake well. It's not a recipe that particularly appeals to me, but I can't fault their stage skills or musical chops. I particularly dug co-guitarist Jon Hembrey's solo turn. Their set featured a funked up version of Simon & Garfunkel
Cecilia
. Afterward singer James asked me if I could think of any local bands who might make for a good show partner and my mind was a complete blank apart from Ty Hall and The EZ3 ... anyone else have suggestions?
Loudlove
, maybe?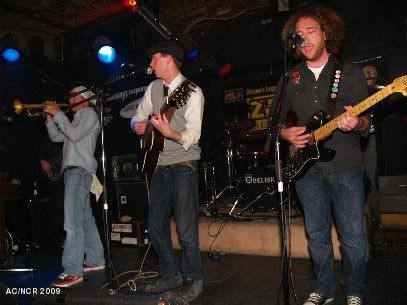 The Jay Spectre, Zaphod Beeblebrox, March 16, 2009
The main draw based on my Internet investigations were Songs From A Room. The track I heard online made me think of Soundtrack Of Our Lives at their most full-throated. They put on a cracking live set too. Real robust rock'n'roll ... there's a couple of guitarists missing from this shot, and frontman Brayden Jones has ditched his Gibson SG for the set-ending
Revival
.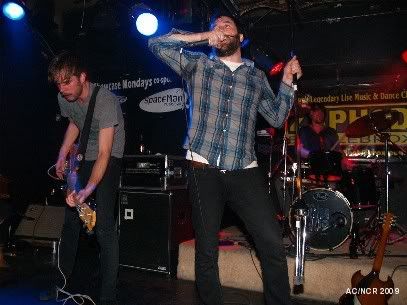 Songs From A Room, Zaphod Beeblebrox, March 16, 2009
I didn't need any Internet research to tell me I wanted to see Saskatoon's The Sheepdogs. I hoped to catch them last time they were supposed to play Zaphod's but they had to bail on that gig. Soundman Slo' Tom told me they were a great band, and several other folks have echoed that praise, most recently in the comments section yesterday. They are indeed an excellent group: Singer Ewan Currie has a strong clear and emotive voice, and either of the guys singing backup could front a band. Excellent guitarwork too from Currie and fellow axeman Leo Hanson.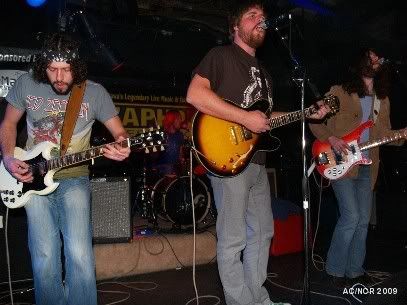 The Sheepdogs, Zaphod Beeblebrox, March 16, 2009
The only downside was that Heidi Happy was a no-show. According to her schedule she's performing tonight at Cafe Nostalgica (at 603 Cumberland) with People Project. I'm also glad I only have to wait until Saturday for my next night out.