I was in the mood for some rocking last night, so I headed off to Irene's to see Boom Creek and Evil Farm Children. It's been a while since I saw Boom Creek; that was also at Irene's opening for Montreal's mighty Mongrels in July 2007. That was an incendiary set (what I saw of it anyway), and last night was no different. Boom Creek have switched up their rhythm section since I caught them. Like last time they wore suits, but even in March all of the jackets didn't last - "Polyester, the material of the future my ass," declared lead howler Neil Petersen.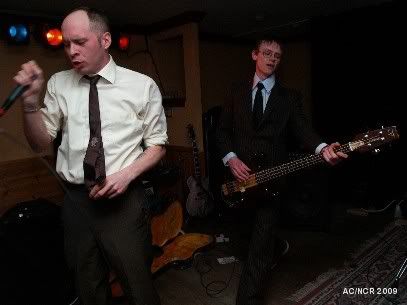 Boom Creek, Irene's March 21, 2009
Evil Farm Children kicked their set off with the cycledelic sound of Davy Allen's
Blues Theme
. Then they kicked it off again because Janice's bass amp quit. The leather jacket didn't last much longer. "The Boom Creek guys made it look so easy." This was a pretty ho set from the Children - their was even some moshing and a tough sounding song so new it doesn't have a name, as well as covers of such surf classics as Link Wray's
Rumble
.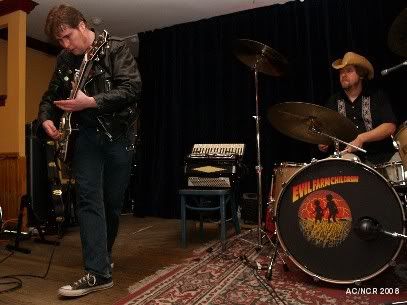 Evil Farm Children, Irene's March 21, 2009
There was a lot of guest appearance action, starting with Marie-Josee Houle on the moody and atmospheric
Valley Justice
. M.J. also gave me a copy of her new CD
Monsters
, which I'm listening to as I type ... oop, it just ended. It's a shorty but a goody at 28 minutes and change.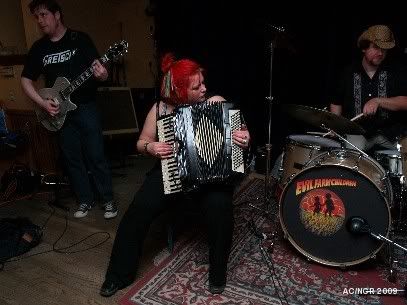 Evil Farm Children with Marie-Josee Houle, Irene's March 21, 2009
They kicked their encore off by inviting Boom Creek's Ian Vance on stage to contribute to a storming version of
Miserlou
.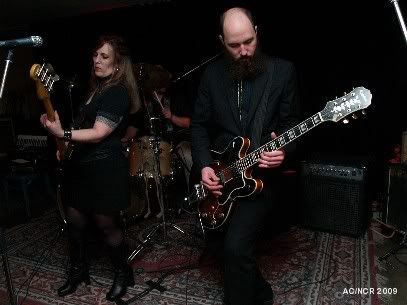 Evil Farm Children with Ian Vance, Irene's March 21, 2009
Then Neil joined them to sing Creedence Clearwater Revival's
Sweet Hitchhiker
and The Amboy Dukes'
Journey To The Center of Your Mind
.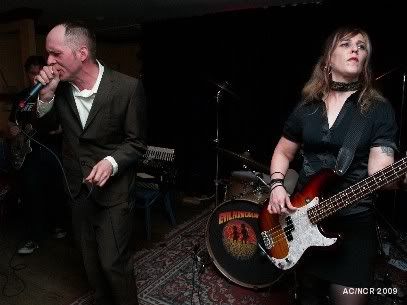 Evil Farm Children with Neil Richardson, Irene's March 21, 2009
A killer end to an excellent evening.
Show reminder: There's CKCU fundraising action and a celebration of 10 years on air for Wake The Folk Up at the Elmdale House with Mitch Hubbell,
Tanya Janca
,
Clear
,
Michael Munnik
,
Jeff Meleras
,
Al Wood and The Woodsmen
, .