I was going to post my photos of Cold Coffee and Salty Boots, but Daylight Savings Time has eaten my picture-processing hour - thus instead you get a photo of
Von Bondies
leader Jason Stollsteimer many years ago at The Dominion Tavern. I only post it because while trolling through the Internet I see Zaphod's has booked them for May 30.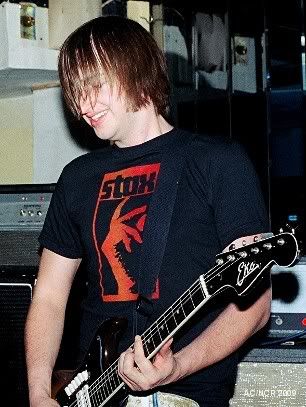 The Von Bondies, Dominion Tavern, February 21, 2004
Hopefully their show will go more smoothly than their label-mates The Airborne Toxic Event. I also see that former High Dials man Rishi Dhir's new project,
Elephant Stone
, will be at Zaphod's May 8 - just a few days after the release of their debut CD. I'm also interested to see what's going to arrive with the NAC's B.C. Scene presentation April 21 to May 3.
Nomeansno
and
Bison B.C.
are scheduled for April 21 at Babylon - that's a good start, isn't it? Kelp Records will also be celebrating its 15th anniversary around them - I hope there aren't any major scheduling conflicts. As for tonight,
Millencolin
,
This Is A Standoff
"and more" play the Capital Music Hall (at least according to Babylon's website).
Barrier
,
Whiskey Trench
and Vile Intent rock The Rocker Room. Leaving Beechwood and Ben & Me play The Rainbow.