First, let me start by noting I'm an idiot -
Steve Stacey
is celebrating his birthday with a Big Ass Birthday Bash featuring Steph Clementine,
The Brothers Chaffey
and his
Stump Splitters
tonight at the Elmdale House, not yesterday as I previously averred. Ditto for the JW-Jones Blues Band at The Rainbow. Operating under the possibly shaky notion that today is Saturday,
In-Flight Safety
are performing at Zaphod Beeblebrox tonight with
Still Life Still
. I wasn't knocked out by them when I saw them at Bluesfest two years ago, but judging from the turnout then they have a lot of fans, and many people are singing the praises of their latest album. They're also doing an in-store at Compact Music at 3.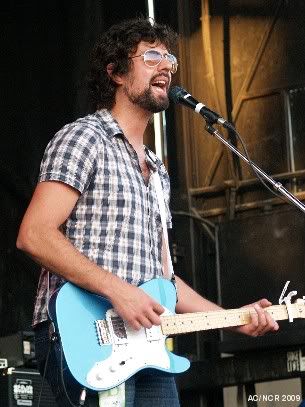 In-Flight Safety, Bluesfest, July 9, 2007
Elsewhere,
The Weakerthans
and
Constantines
play Bronson Centre Theatre to a sold out crowd;
The Death of Apollo
and
The John Punch Band
play Cafe DeKcuf.
The Powergoats
release their CD (and a book, too!) at Irene's.