I've been mighty busy today, so we'll get back to the Nobunny show in a few days. In the meantime, Moncton heavyweights
Iron Giant
, will do battle with Ottawa's
Magnificent Butchers
at the Dominion Tavern tonight.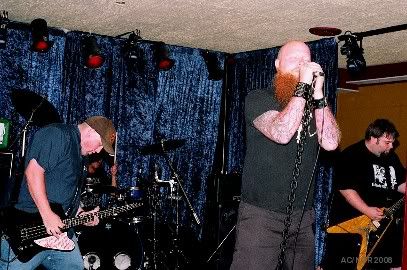 Iron Giant, Mavericks, August 4, 2005
If you prefer your music more country than crushing, there's also
Joe Grass
,
Okie Weiss
and
The Murder Ballads
at the Elmdale. In other thrilling news, pop rockers
The Figgs
are coming to town on May 22. You may have heard of their backing British rocker Graham Parker on tour. Definitely a must for fans of early Nick Lowe, Elvis Costello and the like. They'll be performing at Zaphod Beeblebrox.