This looks to be the busiest week for shows in some time, thanks to a double-helping of festival action: The Gaga Weekend and Westfest. But if you can't wait until Thursday to hear some fine music, tonight Halifax folkie
Christina Martin
and
Tara Holloway
perform at the Avant Garde.
The Stills
play a low-key show at Zaphod's with
Hollerado
.
The Mistress
,
Hawk Man
and
Butterflies and Zebras
do whatever it is they do at the Bytown Tavern.
On Wednesday synth-rocking nutters
Erick Von Erick
molest Zaphod Beeblebrox with
Hellbros
and The Loose Ties. Over at the Avant Garde
Ship-Shapes
- which is 50% of The Grass - perform with Halifax pop-uppers
The Superfantastics
.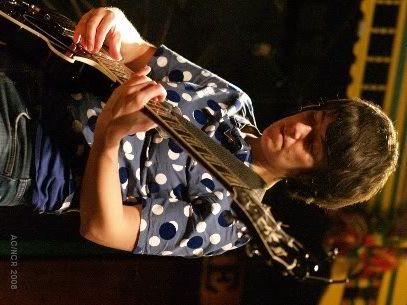 Julie Doiron, The Rainbow, November 12, 2006
Then on Thursday the festage arrives! Westfest looks east to Moncton with 1755, Marie-Jo Therio and
Julie Doiron
.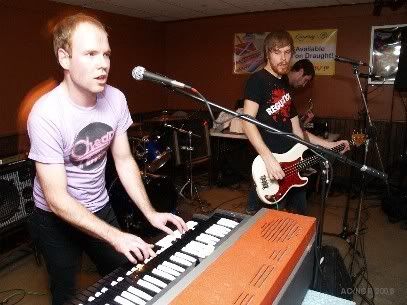 Sedatives, The Bytown Tavern,March 27, 2008
Meanwhile, off in Gagaland, the Rock'n'Roll Pizza Party serves up Uranium Comeback,
The Felines
,
Savage Crimes
,
Sedatives
and The Sick Fits at the Bytown Tavern. Elsewhere, East Coast bohemian noir combo the Tom Fun Orchestra and The John Punch Band play Zaphod's.
Friday things get a bit rockier (and rappier) at Westfest with
Joel Plaskett Emergency
,
Grand Analog
,
Land Of Talk
,
Matthew Barber & The Union Dues
,
i see rowboats
, and
Hurray For Higgsfield
.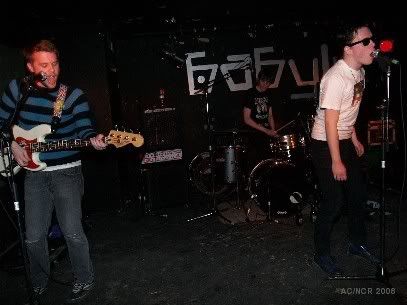 The Holy Cobras, Babylon, April 16, 2008
There's also more to go Gaga over with a 59 Argyle house show: The White Wires, The Visitors, The Holy Cobras and The Sonic Avenues fill the bill. Elsewhere, love is all around as
Brights
release their new CD with
The Love Machine
,
That's The Spirit
and
Benefit Of A Doubt
at Babylon. Over at Irene's
Good2Go
,
The Polymorphines
and Studio Shift rock the house. The Avant Garde plays host to Parade.
Slim Twig
,
Elfin Saddle
, and
Caroline Keating
play Zaphod Beeblebrox en route to Pop Montreal.
Westfest has a native theme on Saturday. Apart from headliner Buffy Sainte-Marie,
Holly McNarland
,
Kinnie Starr
, The
Nemisak Singers, throat-singers
Nukariik
, Tamara Podemski, and Leela Gilday.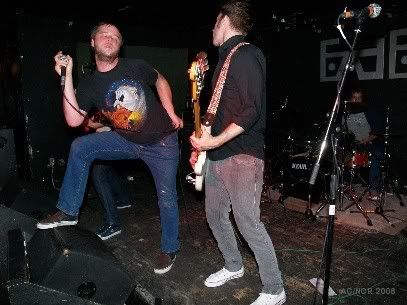 Million Dollar Marxists, Babylon, May 24, 2007
For Saturday the Gaga Weekend boasts a matinee at the New Bayou with Army of St. Joan,
Psychic Hotline
,
Gunsmoke
and
Four'n'Giv'r
. Later at Babylon you can catch
The Botch Suicides
, The Fucking Machines,
Teenanger
and
The Million Dollar Marxists
.
Elsewhere in town,
Dry River Caravan
perform at Irene's; the
Ashley Newall Band
release their latest CD at Zaphod's with Brian Simms.
Evil Farm Children
play a free gig at the Royal Oak on the Canal. The Rebel Wheel and Poligraf perform at the Avant-Garde.
Finally on Sunday,
Lynn Miles
,
Sue Foley
,
Lyndell Montgomery
,
Kenny Voita,
Kyrie Kristmanson,
The Polymorphines
,
Flecton Big Sky
,
Lonesome Paul,
Meredith Luce
, Melissa Laveaux,
The Love Machine
,
Andrea Simms Karp
, The Ethics and the
Voices Of Praise
draw the curtain down on Westfest.
Zaphod's hosts the much-hyped (and highly intriguing)
The Summerlad
and
Parlour Steps
.