As I was drifting about Barrymore's before the start of the Holy Fuck show, I happened to overhear someone discussing the merits of Speak'n'Spell. I guessed the stocky goateed conversationalist might be Sean, a.k.a opening act Squelchbox - and so indeed it was. Squelchbox uses a bunch of homemade machinery and circuit bending to construct his gurgling soundscapes. You can't tell from this pic (or any of the others, due to poor depth of field), but the knobs on the control panels are polysided gamers' dice.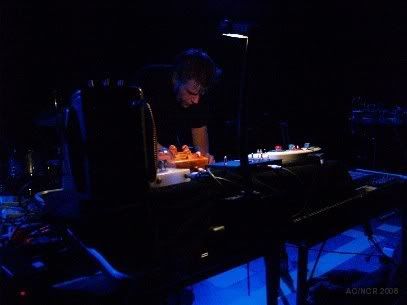 Up close and well lit.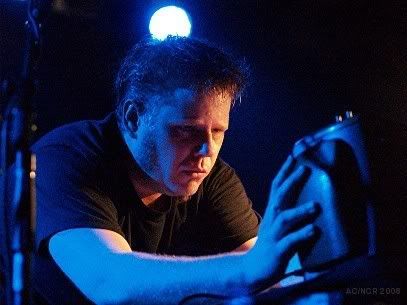 And from way back.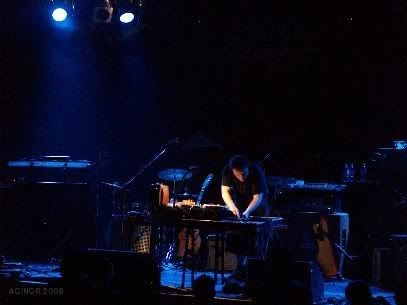 The grand finale! Okay, so not much in the way of jumping or bouncing about, but many interesting sounds.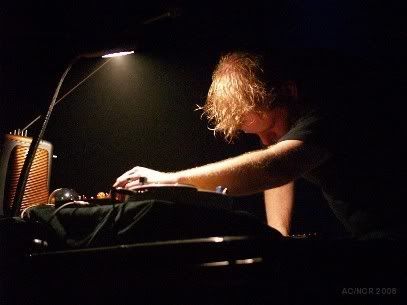 A most entertaining and aurally appropriate opener.
Show reminder: Westfest offers an eclectic bill with Joel Plaskett Emergency, Grand Analog, Land Of Talk, Matthew Barber & The Union Dues, i see rowboats, and Hurray For Higgsfield. The Gaga weekend features The White Wires, The Visitors, The Holy Cobras and The Sonic Avenues at 59 Argyle. The Brights release their new CD with The Love Machine, That's The Spirit and Benefit Of A Doubt at Babylon. Good2Go, The Polymorphines and Studio Shift rock Irene's. The Avant Garde plays host to Parade. Slim Twig, Elfin Saddle, and Caroline Keating play Zaphod Beeblebrox.