I went to Mavericks last night to see hotly tipped francophone act Bonjour Brumaire, Winter Gloves and Ottawa's own Murder Plans, a show courtesy of
i(heart)music
. There was something a little different about the place went in: Namely, a total lack of furniture. They also seem to have sawed the bar in half. I gather a play for an increased capacity is at work.
The Murder Plans kindly warned the following acts that the X on the stage marked a hole in the wood underneath the carpet. There goes my "buried treasure" theory. They also asked people to visit their
Youtube video
. Watch it and you'll never complain about the size of your practice space again. Their live show was once again excellent. I'm still getting a strong Postcard records vibe from them, but they sounded a bit more rootsy this time around.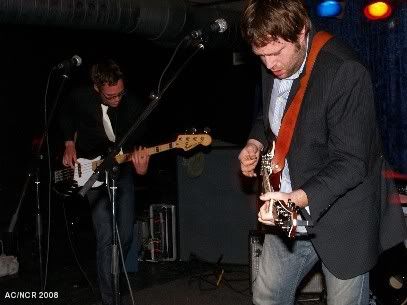 Murder Plans, Mavericks, June 19, 2008
Next came Winter Gloves, who stole the show with their super bouncy electronic pop and falsetto vocals. "They deserve the Polaris next year!" said Bonjour Brumaire frontman Youri Zaragoza. They've been recording with a guy who's worked with Malajube and Les Breastfeeders, so who knows?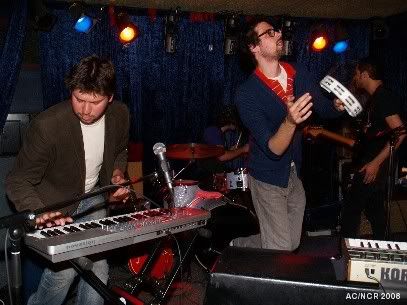 Winter Gloves, Mavericks, June 19, 2008


Finally Bonjour Brumaire ran through their set of classic rock-influenced indie pop. For some reason the Montreal quintet put me strongly in mind of 1990s Irish rockers Whipping Post (I'm still trying to figure out why my brain dredged up the comparison ... a familiar riff, perhaps). Quite good, but a bit overwhelmed by the openers.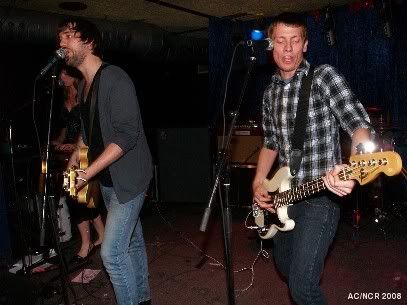 Bonjour Brumaire, Mavericks, June 19, 2008


This was their first show in Ottawa; I bet they'll be playing someplace a bit larger when they return.