The Bytown Tavern has been providing an appropriately subterranean environment for local punk bands to play. Tuesday night it played host to
Humans Off Planet Earth!
and The Suicide Pilots (The Botched Suicides didn't show). HOPE were new to me: They play a thrashy, crusty punk rock with echoey vocals courtesy of drummer Tyler, who also donned a Sarf Lundun accent for a Crass cover.
Then it was The Suicide Pilots. They like that California hardcore sound: I definitely hear echoes of The Dead Kennedys (including some occasionally warbling vocals) and Circle Jerks (both of whom they cite as influences, along with various crust and hardcore combos. They've attracted some recent notoriety after the RCMP investigated them for possible terrorist intent.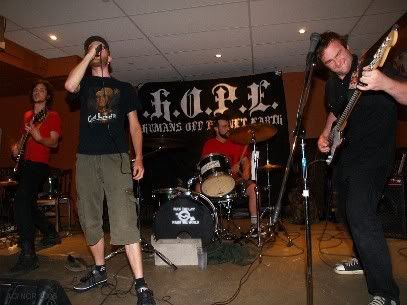 Quite ridiculous - everybody knows the real threat to Canadian society is the upcoming
Gaga Weekend
. Here Ian Manhire, Luke Nuke and well-known artiste
Dirty Donny
show off the fancy poster Ian worked up for the star-studded event.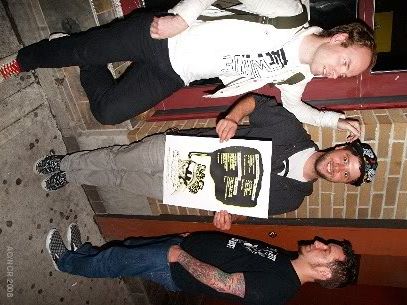 Unfortunately work means I'm going to miss the entire weekend - oh well, at least I have the poster!