There's a lot to see this week (I know, I always say that ...) just not today. So rest up and prepare yourselves for Wednesday.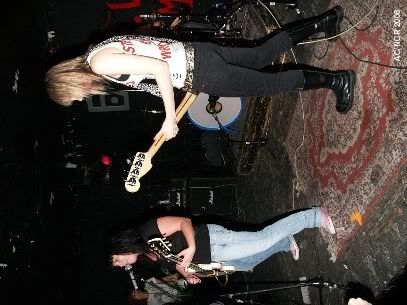 Bella Bombs, Babylon, January 3, 2007
... When Sweden's
Oholics
play Zaphod's. They're a retro garage-psych act with production courtesy of Ebbot Lundberg of Soundtrack of Our Lives. The
Bella Bombs
open.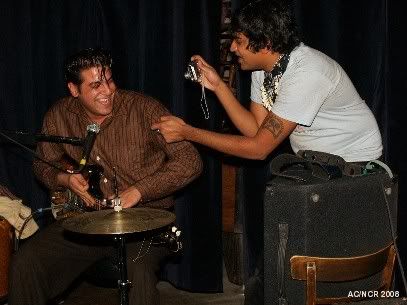 Bloodshot Bill, Irene's, November 20, 2006
Thursday night you can see Indiana psychobilly cat
Art Adams
and Montreal trashabilly idol
Bloodshot Bill
at the Elmdale. It's a busy night: you can also see
Butterflies and Zebras
at the Avant-Garde;
Trevor James and The Perfect Gentlemen
with Montreal indie rockers
The Darling DeMaes
and Windsor folkies Michou at Zaphod's or
Bonjour Brumaire
,
Winter Gloves
and
The Murder Plans
at Mavericks.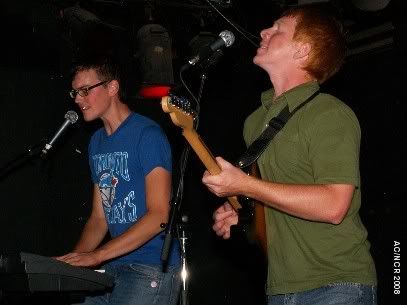 D'Urbervilles, Zaphod Beeblebrox, August 10, 2006
If you have the means to make it to The Black Sheep Inn you can see
The Wooden Sky
with ace Guelph combo
The D'Urbervilles
and
Leif Vollebekk
.
Friday is, of course, the start of jazzfest: Wynton Marsalis, Common Bond, Servantes and Apex Jazz Band are the bigger names; their website has more, but since it crashed my Firefox you might just want to hunt up a handbill instead.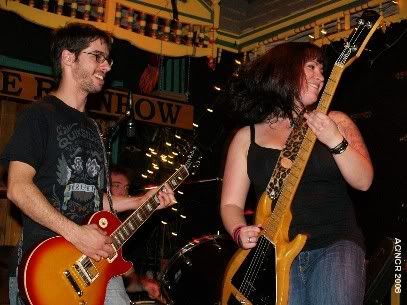 Tara Lee Combs, The Rainbow, September 9, 2007
But let us suppose you are not a jazz fan: You can always see
Flow 14
with
Tara Lee Combs
at Zaphod's. Rock lovers can check out
Garaga
's record release at Babylon with
Tokyo Sex Whale
and
Boom Creek
. If you like Ball and Chain, you might want to check out cajun ensemble Grouyan Gumbo (with which they also play) at the Elmdale House tavern. There's also Uzumaki - this is not the bonkers Japanese rap-rock combo, but a local outfit featuring Lindsey Wellman, Toronto experimentalist eldritch Priest and Rory Magill - at the Avant-Garde.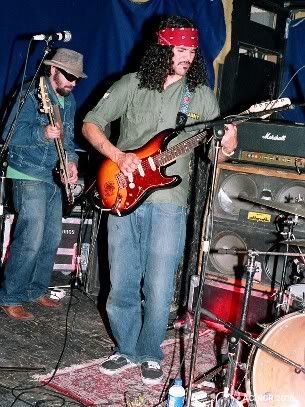 Brant Bjork, Babylon, June 6, 2005
On Saturday, apart from Jazzfest (Cosmos, Buddy DeFranco, Felix Stussi, Duane Andrews Quartet and the ever-popular more), you can see
A Plot Against Me
with
Knives for Kids
at Cafe DeKcuf,
Econoline Crush
and
State Of Shock
at Mavericks or Hunter Eyes and
Blind Mule
at the Avant-Garde. Politique release their new CD with The Balconies at Zaphod's;
Shawn Tavernier and Silver Creek
(and/or
Anders Drerup
, there are conflicting listings) perform with
The Withering Pines
at Irene's and
Washboard Hank
and The Wild Turkeys get down at the Elmdale House. The big draw from rock fans is, of course, former Kyuss man
Brant Bjork
at the Dominion Tavern. The younger set may enjoy
Strike Anywhere
,
The Flatliners
,
Hostage Life
and
Assemble Me
at Babylon.
Sunday the Jazzfest continues with Herbie Hancock Quartet, Iro Haarla and Alexis Baro Sextet. And more? Of course! I miss anything? Drop me a line in the comments section or via e-mail. The Rainbow plays host to
Bruce Boris
,
Throes
,
Shot by Jack
and
Riishi Von Rex and the Dire Royalty
, while Mavericks collects as many strangely named bands as they can for a bill including
I Wrestled A Bear Once
,
Kissy Face Fashion Faux~Pas
,
Beneath All Innocence
,
Pray For Tomorrow
,
Her Last Words
and
Caramel Waltz
.