The weather's been stinky of late, hasn't it? Unfortunately way too many people who should have known better failed to make it out to Zaphod's last night to catch wicked sets from Tokyo Sex Whale and Athens, Georgia psychedelic circus Dark Meat.
That is not to be mean to openers Mud Lake, a youthful quintet whose set I mostly missed. I did hear their good cover of The Who's
Baba O'Riley
, though.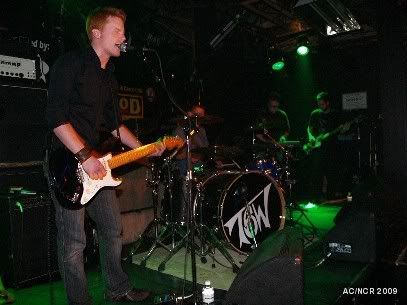 Mud Lake, Zaphod Beeblebrox, June 1, 2009
Tokyo Sex Whale were up next and their stacks quickly pummeled Zaphood's into submission with one of their heaviest sounding sets to date. I don't recall any of their tunes coming off of their LP. The closer
Sleep
was definitely worthy of bearing the name of the acclaimed doom band.
Tokyo Sex Whale, Zaphod Beeblebrox, June 1, 2009
Dark Meat played a sonically hefty set as well. Their pyschedelic throb was alive and well, and actually sounded quite a bit more focused than on their album. Maybe that's what happens when you pare your band down to seven on the road. Unfortunately the picture below omits what makes them special, their horn section: There's a trombonist off to the right and a trumpeter off to the left, as well as a slim lady on piccolo.
Dark Meat, Zaphod Beeblebrox, June 1, 2009
A great show, unfortunately only close friends and relatives of the various bands made it out, and I'm guessing the audience topped out around two dozen.
Show reminder: Laganza performs at The Rainbow. They like Neil Young and Bob Marley and come from Muskoka. Guy Del Villano performs at the Elmdale House.