Last night I went over to Zaphod's to see
The Polytones
,
That's The Spirit
and a band I was unfamiliar with,
The Village Bicycles
. This was sort of a label promo show for Ottawa indie
Antique Room
., which is That's The Spirit mainman Ben Wilson's baby. I believe it was also recorded for CBC2, so if you couldn't make it hopefully it will be appearing on radio or online soon.
First up were The Village Bicycles ... "The Sluts were taken," bassist Simon "pDik" Wright explained. And here I thought it might be a reference to
The Prisoner
. There music blends in rock of the spacey, hard and stoner varieties, but they also through in a reggae tune. You can't make it out in this photo but lead singer Tyler "Teatime" Knowlton is wearing a "Listen to Bob Marley" shirt. They also played what they claimed was an update of a Ukrainian folk song. It was a fun show with some really good guitar and keyboard sounds, and I can definitely see them appealing to Ottawa's rock lovers. Also, they really like skateboards, and have a tune dedicated to one confiscated by the police. They finished things off with a cover of Van Halen's
Jump
.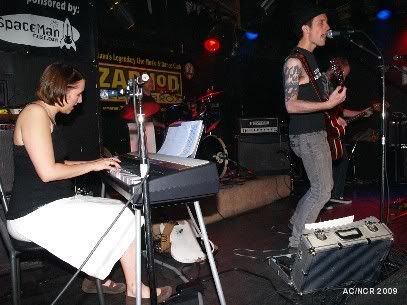 The Village Bicycles, Zaphod Beeblebrox, April 27, 2009
The Polytones played their usual energetic set, with lead singer Lesia Manchulenlo whirling about nonstop as usual. They were invited to play by That's The Spirit - mainman Ben is of course also in The Polytones. "I don't want to call it nepotism ..." joked Lesia.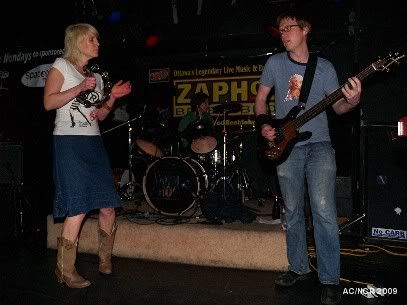 The Polytones, Zaphod Beeblebrox, April 27, 2009
It's been more than three years since I saw Ben do his That's The Spirit thing - before he had an album and before it turned into something more than a solo project. He still does perform solo, but for this occasion he had Brennan Pilkington from Department of Foreign Affairs (in which he also performs) and Jake Lovetart on drums, steel guitar whiz Tom Thompson, Nicholas Dyson on trumpet and Village Bicycle Simon on bass.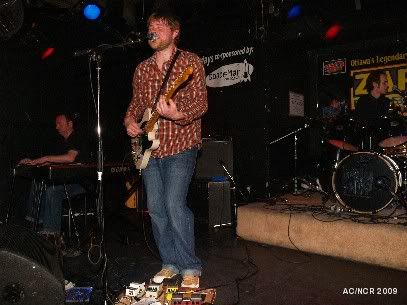 That's The Spirit, Zaphod Beeblebrox, April 27, 2009
He'll be off to Scotland, England and Ireland for a few shows in a couple of weeks.