Lots of fun on offer tonight, starting with power-pop stalwarts
Mother's Children
, who are releasing their new 7-inch tonight alongside
White Wires
,
Savage Crimes
, and mysterious new combo
Zebrassieres
at Montgomery Legion Hall on Kent St.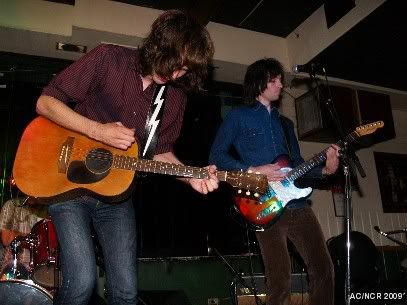 Mother's Children, The Dominion, July 7, 2008
I suspect the folks who might be there but aren't will be at Mavericks for
The Creepshow
,
The Visitors
,
The Bible Allstars
and
Saucy Jack
.
The Ethics
also have a new CD to celebrate, and they're showing it off at Babylon with
Meredith Luce
(who's bringing her band) and Montreal's
B.W. Brandes
. Those with rootsier tastes can head to Irene's for
The Sure Things
and
The Magnificent Sevens
. If you're smart enough to have bought a ticket beforehand, you can sheck out Fiftymen at the Elmdale House. Elsewhere,
Endast
,
What's He Building In There?
and
We Were The Fires of Rome
rock Cafe Deckuf. Loudlove plays The Rainbow.