The lineup for this year's Bluesfest is out, and as often the case, it's a combination of cool, ho-hum, and what the @#$! were they thinking? This year
Neko Case
and
Drive-By Truckers
are the big score for me. Hopefully I'll be able to snap a better photograph than the one below this time.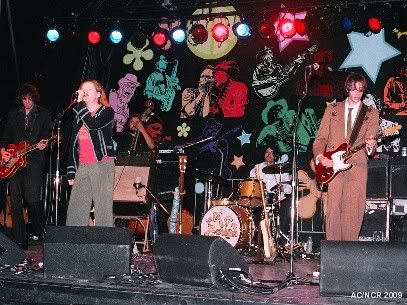 Neko Case, Ottawa Bluesfest, July 8, 2005
I'm certainly going to check out British prog titans
Van der Graaf Generator
, odd pop Californians
The Dodos
,
Okkervil River
, Mali diva Omou Sangare; blues offspring Cedric Burnside and Lightning Malcom, Aussie guitar champs
The Church
; The Zombies are allegedly still cool, and I figure I'll have to see the latest iteration of The Yardbirds as well. It's never a bad thing to catch Sharon Jones and The Dap-Kings;
Papa Mali
put on a killer performance last time around too, and
Dave Alvin and the Guilty Women
and
Crystal Castles
should be fun. Hollerado are back, which is also cool. There are also several local bands I'll be glad to check out again. As for main stage headliners ... well, I want to hear Jeff Beck.
They don't seem to have switched the layout around much this year, so I'm hoping they're working the schedules so sound-bleed isn't as much of an issue - I don't want to think about how might affect Iron and Wine's performance ...
There doesn't seem to be too many acts I haven't heard of on this year's list, but can anyone suggest a performer I might want to check out?