There's lots of good rocking tonight, starting with
Big Jeezus Truck
at Irene's (it'll make a difference from hearing them through the floorboards, if you've ever been to a show at the pub and heard them rehearsing in the space below). Also playing loud will be
TokyoSexWhale
,
The Lost
, and freshly minted combo Cloven Hoofs at the Dominion Tavern.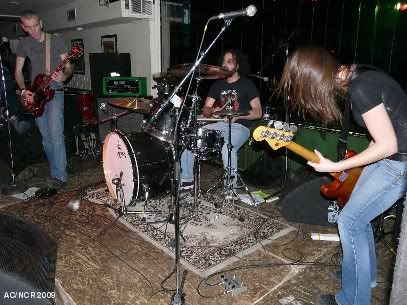 Tokyosexwhale, The Dominion, December 1, 2007
Also on offer:
The Sound Technicians
play Zaphod Beeblebrox, along with
Shanker + Romps
(you just need to scroll down a bit to see them in action recently at Irene's);
The Pocket Trio
,
King
,
Band In A Bag
and Weather Permitting perform at Cafe Dekcuf;
One Second Too Late
and
Jacob Knows
rock Mavericks; harmonica man
David Rotundo
(
who I caught a few years back
at Bluesfest) is at The Rainbow.
The Hammerheads
have a sold out gig at The Elmdale House.