Here's a preview of some of tonight's action, starting with a house show featuring
Sleeping Pilot
(shown below), Cloven Hoof and Mountanaka at 439 McLeod. It's been quite a while since they've played - last time I saw them was at Babylon more than two years ago.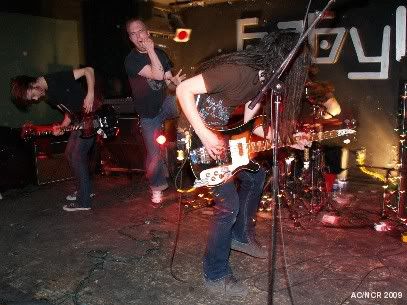 Sleeping Pilot, Babylon, February 14, 2007
Elsewhere,
Evil Farm Children
and
Marie-Josee Houle
(plus her band) play Elmdale House;
Hey Ocean!
and
Said The Whale
perform at Zaphod Beeblebrox; Loki,
The Hometown Hecklers
,
Only Way Back
,
Snatchback
and
Gusto Fiasco
rock Cafe Dekcuf; The Boogiemen and River City Junction boogie into The Rainbow;
The Exalted Piledriver
,
JoeThrasher
,
Bastardator
,
Aggresor
,
Spewgore
,
The Catalyst
and
Abusor
deafen an all-ages crowd at Mavericks. Lonesome Paul performs at Irene's.
Ben and Me
romp about at the Avant-Garde.