I had a fun time at Mavericks last night - or, as it seems to have renamed itself, Maverick - watching local feral folkies Sadie Hell, The Murder Plans and Murder by Death.
Ben Welland bolstered his forces for this show with saxophonist Dave Halabisky and guitarist Sam Welland along with drummer Sean Laframboise. Ben was sounding in very good voice - they kept it to a short set of five songs, ending with popular howlalong
The Wolf Can
.
Sadie Hell, Mavericks, April 18, 2009
The Murder Plans were also sounding pretty tight, rocking out a healthy helping of new tunes from their 5/8ths finished album and sounding even more like The Wedding Present to me than usual.
Murder Plans, Mavericks, April 18, 2009
Finally. Murder by Death. When they last played town, opening for the Reverend Horton Heat, they didn't make much of an impression - not surprising since I only heard three songs. On this occasion they really impressed, both with their doomladen songs about puking, survivalists, drinking, bad brothers and the apocalypse - or, as lead singer Adam Turla put it "The fun stuff." They certainly seemed a lot more energetic on stage this time around, and were buoyed quite a bit by a large, enthusiastic audience. I could hear a lot of singing along. Turla's voice was in excellent shape, and it's a nice, resonant instrument.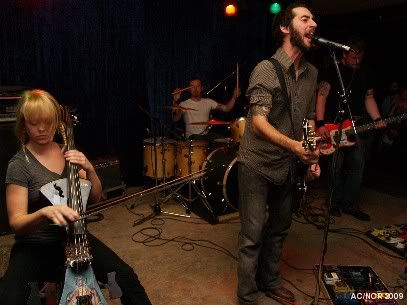 Murder by Death, Mavericks, April 18, 2009
They also left an impression of being generally swell folks, performing
The Big Sleep
by request for a soon-to-be married couple. Turla encored alone with
Shiola
then had the band back for an instrumental workout.
Show reminder: DD/MM/YYYY, METZ, Fucked Corpse and Army Of St. Joan were supposed to rock Mavericks tonight, but one of the DD/MM/YYYY guys got banged up on his bicycle (he'll recover) so the band had to cancel ... not sure what that does to the rest of the gig, so I'll update the post as soon as I find out (

Update: Alas, the whole show's cancelled

); Ridley Bent, Dustin Bentall (son of Barney) and Steve Stacey perform at Zaphod Beeblebrox; Jane Ehrhardt, Bette et Wallet and LPoushinsky folk around at the Rainbow.