I can't remember the last time I was at a house show - the closest thing was the last Birdman Sound Shed Sessions, and that was some years ago. Calum Marsh of Mocking Music and his housemates hosted four bands last night: Vancouver's Secret Mommy Quintet, Montreal's Winks and local outfits We Fled Cairo and Ennuie.
First band on was
We Fled Cairo
, and instrumental duo (particularly on this occasion, since drummer Dave's throat was suffering). They're playing another house show at 59 Argyle tomorrow.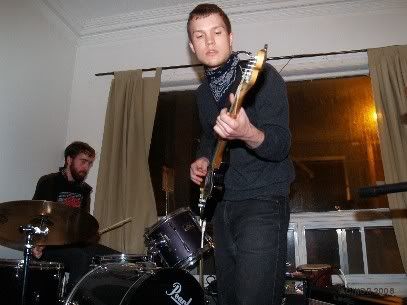 Up next,
Ennuie
, the only combo I was familiar with. And yes, Ivana is sitting on an exercise bike. They conjured up an almost psychedelic throb this time around. They also had a pop quiz which I think Luca won by not answering any of the questions.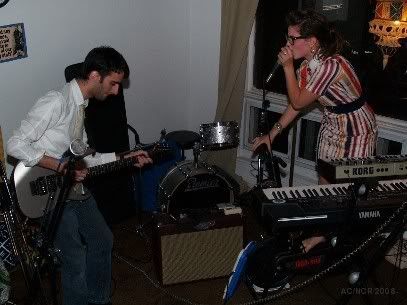 The two out-of-town combos took the usual indie pop formula and gave it some twists:
The Winks
use mandolin, cello (with some extra effects for a ferocious sound) and drums. There was also some tap-dancing.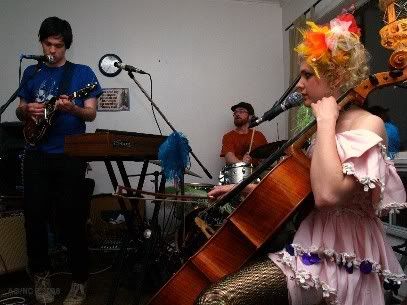 The
Secret Mommy Quintet
gets its rhythms from glitchy techno and surrounds them with a couple of guitars, xylophones, saxophones, shakers, and accordion. I guess I can't say I'm totally unfamiliar with the band, because that looks an awful lot like Shane Krause of They Shoot Horses, Don't They? (It's a little hard to tell without the TSHDT?-issue beard) And I believe that tattoo belongs to Sarah Doer. Andy Dixon is the guy on guitar and laptops. Not shown is Gregory Adams, who is in Andy's other band Winning. I believe the gal on xylophone is named Merida.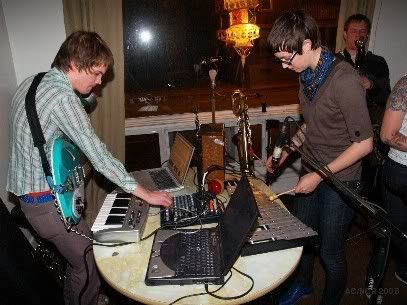 And I'm not going to say any more because it's 3 a.m. and I need to sleep.