I've had a nice couple of days off, but there's been something irritating ... upsetting ... aggravating my existence lately: My el cheapo turntable has been whining at me for the last couple of days, so I went off to
Planet of Sound
to grab a new one. One freshly purchased matte black contraption (and an unseemly amount of fiddling with counterweights) later and I can once again listen to my Scorpions and Joe Walsh LPs. Phew! And as the night comes on I can set off to the Rock'N'Roll Pizza Party to catch some full tilt punk rock. First up, The Annoyers. The rhythm section is familiar from such combos as The Creeps and The Visitors. Steve Annoyer is the frontman, Sean Shark plays guitar. They like The Ramones - of course! - The Queers and no doubt a bunch of other acts, but they're basically living in the basement of the house that Johnny, Joey, Dee Dee and Tommy built. Good stuff. Unfortunately my pictures turned out a bit on the gruesome side. Most of them are of Sean Shark and some blurry others since he was the only member well lit enough to focus on.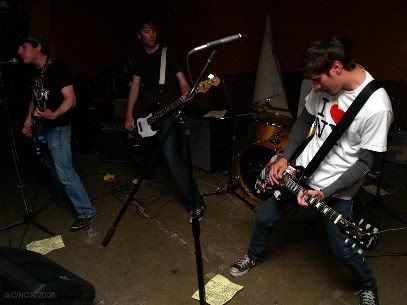 The Annoyers, Bytown Tavern, May 22, 2008
The Fucking Machines then ripped through their own set of hardcore punk rock. They have a new guitarist, Dave Williams of The Sedatives and Last Communion.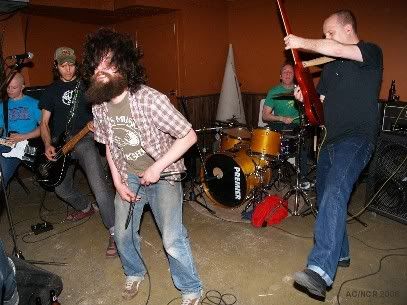 The Fucking Machines, Bytown Tavern, May 22, 2008
Colin Vincent wasn't around to share vocal duties with Scott as he usual does, but everything worked out well nonetheless. Things got very rambunctious during their last two songs. As I noticed last time around, the Rock'n'Roll Pizza Party seems to be attracting big crowds ... maybe that means the Bytown Tavern can get some new lighting. Nudge nudge, hint hint ...