Hollerado
have conceived a brilliant (or crazy) plan to perform at seven different venues in Canada and the U.S. - and then they're going to do it again ... and again ... and again. So on Saturdays, they'll be at Montreal's Barfly, on Monday they're at T.T. the Bear's in Boston, Tuesdays they hit Piano's in New York City, Wednesday is set aside for the Pipeline Gas Bar in Lacolle, Que., Thursday they perform at Sneaky Dee's in Toronto and Friday - you guessed it! - they come to Ottawa's Cafe DeKcuf.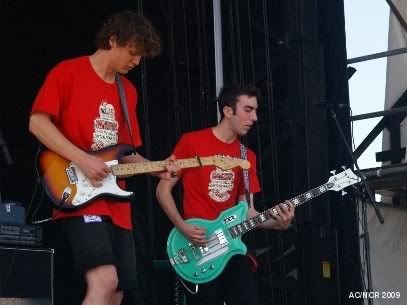 Hollerado, Bluesfest, July 7, 2008
Tonight's special guests are Poorfolk and Young Rival - should be a killer show. On February 13 it's Barnburner and Rough Sea, on the 20th it'll be an all-ages show with The Gales, and their final gig will be with the Black Names and Rough Seas.