Crazy times last night at Babylon as a bevy of garage rockers and assorted weirdos took the stage in front of a whole bunch of other garage rockers and assorted weirdos. The occasion was the tour for Nobunny, and an appropriately rock-tastic bill was assembled.
First up, Ottawa party-rockers The Beach Blankets. This set was not quite as loopy as their performance at The Rocker Room which I witnessed a little while back. Still plenty of fun, plus a version of
I Want Candy
mutated into
I Hate Teachers
.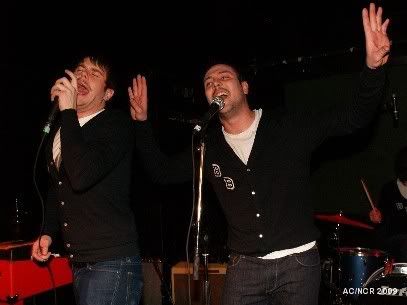 Beach Blankets, Babylon, February 26, 2009
A few years back Stagecoach and The Funisher were part of herky-jerky Ottawa punks Quebexico, now their stuff with
Teen Anger
is a lot more Cramps, Gun Club and Gories, but with a throbbing low end. They're also running the Telephone Explosion label.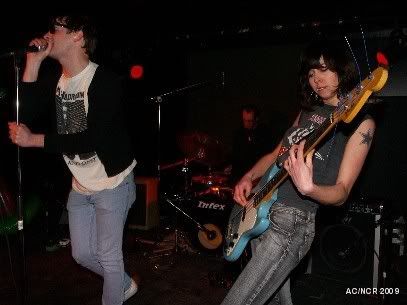 Teenanger, Babylon, February 26, 2009
Demon's Claws had a similar sound, maybe a bit more spidery ... I saw them years ago at Irene's, when Skip Jensen of the Scat Rag Boosters was their drummer ... They still tear it up pretty good, though I talked to two people in rapid succession who were poles apart in their appreciation for the band's set. They have a new limited edition LP out on Telephone Explosion.
Demon's Claws, Babylon, February 26, 2009
Ian Manhire played the hits between sets, since this was also a Rock'n'Roll Pizza Party night - RRPP has departed the Bytown Tavern, and will soon be taking up residence in the Royak Oak across the street from Babylon.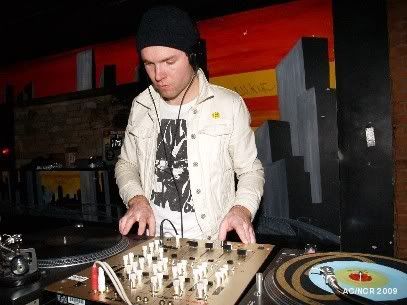 Ian Manhire, Babylon, February 26, 2009
The Smith Westerns are on tour with Nobunny as his backing band, but also played an awesome set themselves - actually it was the evening's highlight. These guys are still in their teens - the bassist is only 17, for crying out loud. Lots of confetti and a huge T. Rex influence from these lads.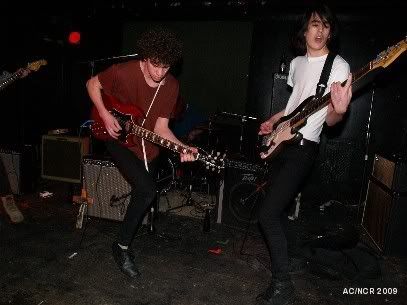 Smith Westerns, Babylon, February 26, 2009
Lo-fi pop a la Jay Reatard is Nobunny's things - also stripper heels, red underwear and a ratty bunny mask. His rabid fans went bananas for his brief set.
Nobunny, Babylon, February 26, 2009
After a while things got so pushy in the crowd that a bunch of people just jumped on stage to dance around, then hurl Nobunny into the crowd.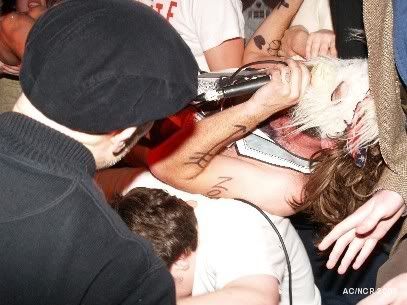 Nobunny, Babylon, February 26, 2009
Try getting that much entertainment for $8 anywhere else.