Back in January when I finally got around to posting photos of King Khan and BBQ's show at Babylon I noted that Khan would be returning in May for a show with his Sensational Shrines - and now we have a date and place! May 8 at Babylon, to be precise.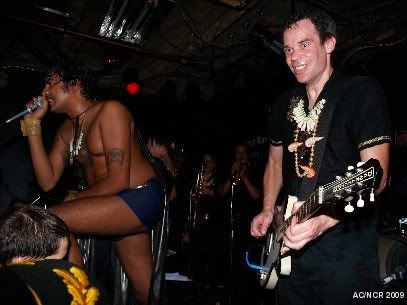 King Khan and His Sensational Shrines, Zaphod Beeblebrox, July 26, 2008
Mark Sultan will also be performing at this show, so now doubt it'll be a crazy 'ol time. And I'll bet guitarist Speedfinger will be happy to see everyone. As for tonight,
After The Burial
,
Veil of Maya
,
Abacabb
and
Fell Silent
play The Bayou;
Passenger Action
,
Molten Lava
,
Dancing On Fire
, and
OldBoys
will rock Cafe Dekcuf; the Rock'n'Roll Pizza Party serves up some amped up rock courtesy of
The Job
and also some amped up pizza. "Surprise guests" are also alleged to be in the offing.
The Bruitals
play the Elmdale House.