Happy Valentine's Day! And what could be more romantic than taking in the sweet sounds of woo courtesy of Shanker and Romps, along with obsessive law turned into hostage-taking courtesy of Black Boot Trio at the Rainbow tonight? Personally I'm still thinking it over. Come to think of it, I'm working that night. Oh well.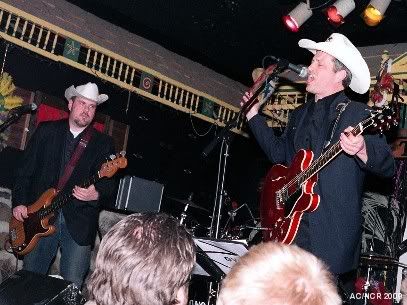 Black Boot Trio, The Rainbow, April 15, 2005
Also treading the boards tonight are
Kathleen Edwards
and
The Hunting Horns
at Bronson Centre Theatre;
The Castevets
,
Picked On
,
Vile Intent
,
Four Stroke
,
The Dirty Nuns
and
Harsh Supplement
will be punking it up at 62 Bell St. N - just down the street from where I used to live.
The Bible All Stars
and
The Cutmen
will be celebrating Valentine's Day with odes to puppy love (it's a benefit show for the humane society) at the Elmdale Tavern. Lonesome Paul and
Uncle Sean
will be playing at Irene's.