It was a coin toss last night between going to see The Polymorphines and Felines at Babylon or Cold Coffee and Salty Boots and The Fays last night ... I plumped for the latter because I've been wanting to catch Mark Mcyntire's new combo for some time, and the Polymorphines seem to be keeping a busy schedule so I figure I'll catch them sooner rather than later ... unfortunately the Beach Blankets dropped off the bill, but it was still a fine knight, albeit one with fewer people standing on organs.
Merle Knurling - a.k.a. Patrick Shanks - opened things up with some of his patented humorous ditties.
Merle Knurling, The Clocktower Pub, February 21, 2009
The Fays made the debut performance. Pretty basic rootsy rock with some Velvet Underground currents running through it. Not bad for a first show by the quartet, who seem to have a fondness for songs about Ottawa neighbourhoods. Tara Holloway made a guest appearance on the closing tune.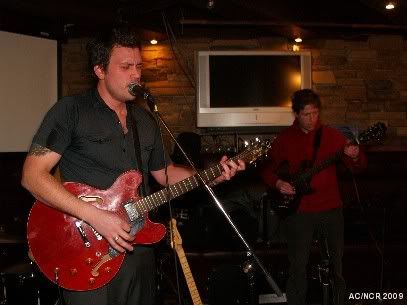 The Fays, The Clocktower Pub, February 21, 2009
Mark has traded in the electric guitar of his Weapons of Mass Seduction days for an acoustic, and CC&SB aren't exactly folk-rock - more like The Thanes or the Dukes of Hamburg a la
All Folked Up
. Jason Vaughan of Artguise drums, Diane plays xylophone and Mark's Solid Senders cohort Patrick plays bass.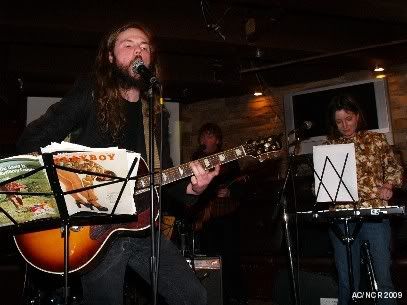 Cold Coffee and Salty Boots, The Clocktower Pub, February 21, 2009
As the show went on
The Wicker Man
was playing on the screen behind them. Naked Britt Eklund and three performances all for $6 - it's a bargain!