Sunday doesn't usually draw a big crowd, but it was not a surprise to see Zaphod's dancefloor quite full as I walked in around 9 p.m. The Arkells had a good portion of the crowd at Barrymore's opening for Matt Mayes' last year in their corner, and many of them apparently decided to show for this gig as well - maybe they all have today off (unlike me).
The Waking Eyes had just started their set as I entered. I received a copy of their debut many years ago when I was writing reviews for the Ottawa
Sun
. I found the songwriting and musicianship quite capable, but thought it was neutered by a glossy production. Even live they're a very tight combo with a good ear for late 1960s- early 1970s pop. Think of The Move, or a more polished Dr. Dog. As you can see from guitarist Rusty's Manitoba tattoo, they're proud Winnipeggers and took time out to mock their skating trail's trumping of the Rideau Canal as the world's longest span of man-made ice, even though it's too skinny to play hockey on and too wide to put in your drink.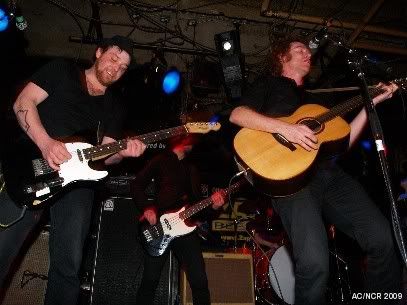 The Waking Eyes, Zaphod Beeblebrox, February 15, 2009
I knew The Arkells would make a better impression in a smaller, sweatier club than they did at Barrymore's, and so it proved to be. Their chunky indie rock sound and vaguely leftist lyrics were a big hit with the audience.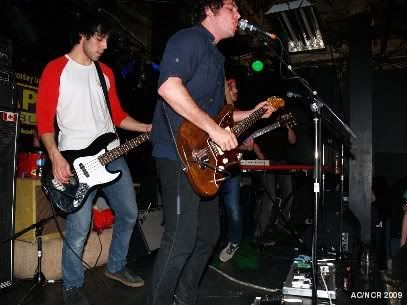 The Arkells, , Zaphod Beeblebrox, February 15, 2009
They finished things off by inviting the members of The Waking Eyes back on stage for a rousing version of The Beatles'
Don't Let Me Down
. Then they probably headed off to the Elgin St. Diner to eat poutine.