Here we are at the grand finale of
In A Cabin With
's Mercury Lounge outing. The project brought Dutch musicians Alvin Ronde and Steye to Ottawa to collaborate with some locals. They recorded an album at Arts Court that will be free for download some time in the not-too-distant future.
First here's Alvin Ronde, guitarist for Zuco103 - and a fine one he is too. He also played some keyboards.
Steye croons a little later (with the same guitar in the picture above, Alvin having switched to a Telecaster).
People Project person Phillip Lafreniere.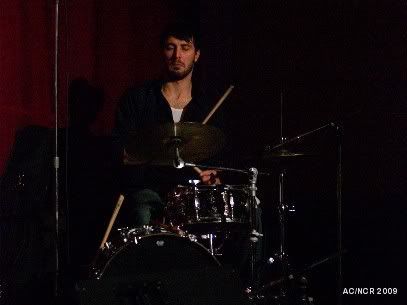 More hot Ronde licks!
And all together ...
I forgot to adjust the shutter speed after switching back to my macro lens, but I like this photo anyway.
KellyLee Evans steps up to sing a few songs and Philippe switched over to guitar. Record producer Jesse Beuker moved into the drummer's seat, but I couldn't get any good photos of him.
Singalong action!
After witnessing Jesse Dangerously's set, Steye wanted to add some beats to a Dangerously rap.
The switcheroo was a little less successful.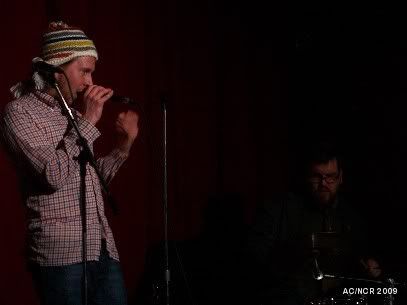 All good fun.