It was a night of familiar faces at Zaphod's last night, starting with openers
The DeadZone
. That's Nials Everett from Radiodazed on bass. He's obscuring your view of Mark McHale, also of Radiodazed on drums. They sound quite a bit like the Radiodazed I remember
seeing and hearing back in July 2005
. Jay Champagne handles guitar duties in the punky trio.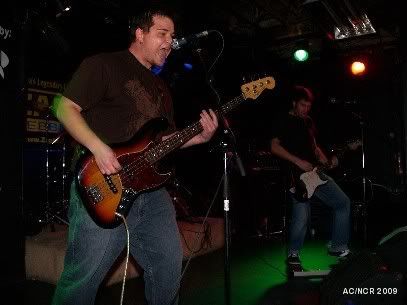 The Dead Zone, Zaphod Beeblebrox, February 12, 2009
Jesus Mullet
put on an awesomely heavy show. I thought they sounded a lot more thrashy - like High on Fire, say - than on previous occasions when they were closer to Kyuss territory. Judging from the ebb and flow of the audience turnout most of the folks there were one hand to see them. They were so darn fine I had to buy their year-old album
Waiting For The Wagon
.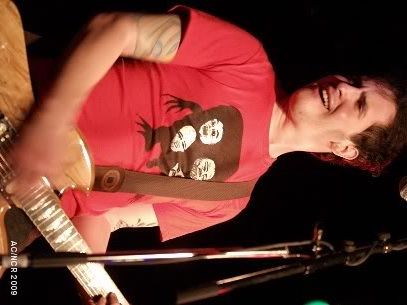 Jesus Mullet, Zaphod Beeblebrox, February 12, 2009
As anyone
fortunate to have seen Shikasta live
knows, they were one of the most powerful bands on the rock scene.
The Mercy Now
, Shikasta mainman Russell Fernandes' new band, is cut from similar cloth. Their pretty ferocious and remind me a lot of Starvin' Hungry. Once again I was inspired to buy their new CD.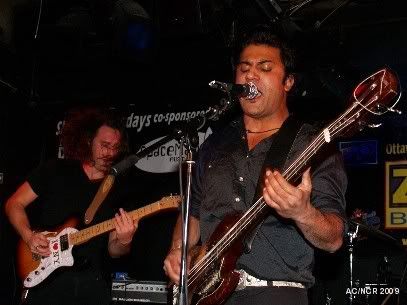 The Mercy Now, Zaphod Beeblebrox, February 12, 2009
Unfortunately, they had to make way for the dancers after only a half-hour or so, leaving more than a few folks unhappy. "I now hate the human race" said Allrights drummer Jon. Oh well, they should be back up here someday ...