There's some heavy sounds going down at Zaphod Beeblebrox tonight, with
The Mercy Now
, Jesus Mullet and Dead Zone. I haven't had the pleasure of seeing the Mullet since the show captured below at Mavericks in 2007, so I may just go out and catch that. For those who don't know, The Mercy Now features Russ Fernandes from Shikasta and Adam and Lee from White Van Speaker Scam.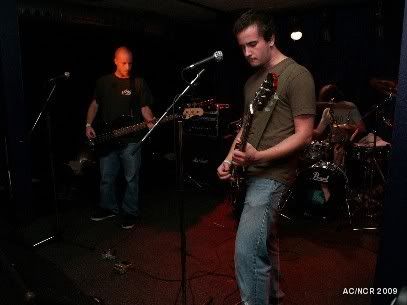 Jesus Mullet, Mavericks, July 19, 2007
Speaking (or snapping) of Mavericks, tonight it hosts
The Planet Smashers
,
The Dirty 30s
and
Gusto Fiasco
. Upstairs at Cafe DeKcuf you can see
Down In Ashes
,
The Audio Vengefuls
and
The Scarlett Fever
.
The Death of Apollo
and
The Urban Aesthetics
are playing at Elmdale House.