First, let us rejoice for National Capital Rock is four today! Huzzay, etcetera. As for shows, there's plenty on offer tonight, starting with Toronto retro-rockers
Modernboys Moderngirls
,
The Centretown Cripplers
and
The Montelongos
(but not, as stated earlier, New Teeth, so I'll resurrect that photo later) at Zaphod Beeblebrox. For those with heavier tastes,
No Other Way
, Cloven Hoofs (some Fucking Machines guys in this outfit I hear),
HellBros
,
The Epilogue
and
Alaskan
rock Babylon.
Dan Voltan
and Nova Scotian
Jon McKiel
will be a bit quieter at the Avant-Garde Bar.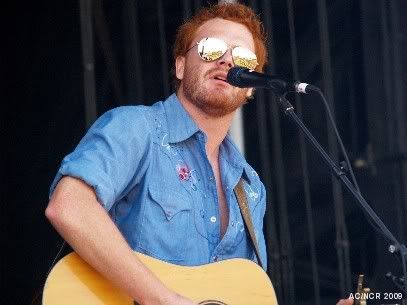 Shawn Tavenier, Bluesfest, July 5, 2008
The Ireland Brothers Band
,
Shawn Tavenier and Silvercreek
and
Andrew Shedden
play the Elmdale House.
Hollerado
, have their all ages show at Cafe DeKcuf with
The Gales
and Experience More.
Clothes Make The Man
and Montreal's
Dirty Tricks
rock Mavericks.
Jay Clark and The Jones
and the Pamela Brennan Experience perform at Irene's.