The delightfully named
Fucked Corpse
are a new group. Some of these folks I know. Bassist Shub Roy I know from Smoke Judo and Akisakila; Davey is in Million Dollar Marxists and a host of other bands and I've seen accordion and guitar player Pierre taking pictures at other shows. For the rest it was a musical introduction to a seven-piece band that sounds like chanting krautrocking monks on a carousel colliding with a dirigible of San Franciscan sex workers.
Pierre gets down on accordion.
Carruthers M. prepares for downstroke fury as Toby tambourines!
If you've followed this blog you'll recognize Davey ... second from right is autoharpist Craig.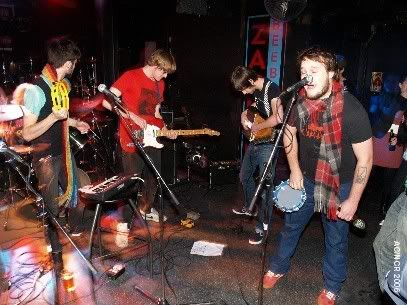 I have no idea what's going on here. Extra flash courtesy of Mike Norton. That's the back of Shub Roy's head in the foreground.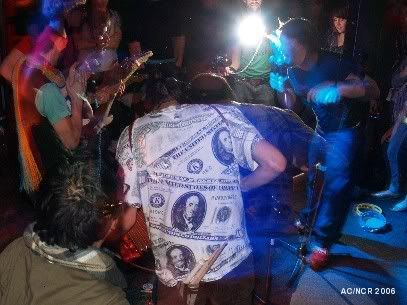 Drummer Geoff stands for rhythm!
More pepper?
Davey sings!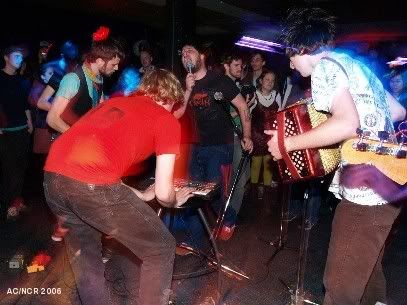 Davey then took off his shirt and grabbed Toby's scarf.
I think Davey was contemplating standing on Geoff's drum, but decided against it.
Big hug! And my only decent picture of Shub that isn't from the back.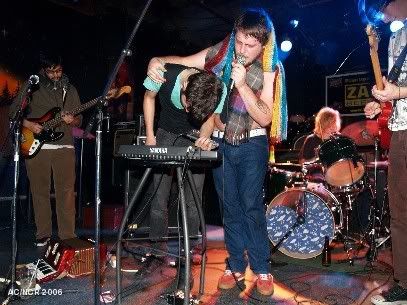 It was a crazy, funny time.
Show reminder: A horde of hipsters descend on Zaphod's tonight to watch The Hold Steady and Sean-Na-Na.