Henri Faberge and The Adorables put on a killer show of music and mayhem at their last Zaphod's appearance, so I was super-keen to see them again. Once again, Relief Maps was the opening act. I left home early to catch their set, but all for naught. Bicycles and Adorables drummer and kit provider Dana Snell was held up in traffic with the rest of her band, so it was actually 9 p.m. before everything was set up and underway.
The Maps sort-of have a new bass player. They are trying out (and vice-versa) Nick Comeau of The Bridegroom.
Time for some pre-show larking on Luke's Hagstrom.
The drum set arrived, so down to business!
Dusty shouts.
Kevin dresses for the weather (and any possible Barrymore's shows).
The first of much clapping that evening.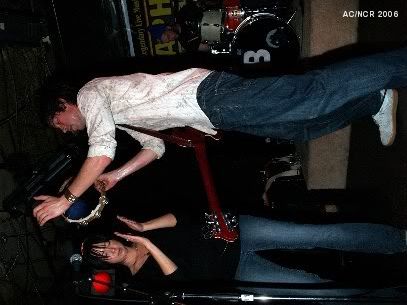 Maps action!
They sounded pretty raucous this show.