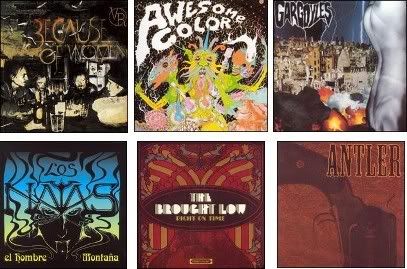 Sigh. Two days to go before I can post live pictures (I'll be seeing Beirut and Animal Hospital on Thursday). Therefore you get more idle chatter about what I'm listening to these days.
Like it says off to the right, I review stuff for pennyblackmusic.com. Among the many labels that grace pennyblackmusic.com with review copies is Detroit stoner rawk label Small Stone. I seem to be one of the few PB writers into the heavy stoner southern sound, so a fair portion of them float my way. Like many specialist labels, Small Stone sometimes puts out stuff that only a genre fanatic could love, but that's most definitely not the case with a trio of new releases.
The first two, despite originating in Boston and New York, dip heavily into the southern rock vein.
Album No. 1 is by The Brought Low. The Queens-based quartet owe a large debt to Lynyrd Skynyrd on
Right On Time
, their second album.
The Rolling Stones also loom large over the proceedings. The acoustic intro to
A Better Life
' smacks of the Stones'
Exile
years (the thundering chords that follow could find a home on any number of AC/DC albums) while the seedy storyline of
Hail Mary
(a tribute to a stripper) is reinforced with
Sticky Finger
-style sonics, including some roadhouse piano.
Meanwhile, Antler also serve up a (raging) slab of southern boogie rock, all slathered in organ on
Nothing A Bullet Can't Cure
. I also hear touches of Alice in Chains and Cop Shoot Cop in their angst-fuelled southern dirges.
Though I haven't gotten around to typing up a review yet, you can be sure I'll have nothing but nice things to say about Los Natas'
El Hombre
. The Argentinean trio have set aside both the raga experiments of the
Toba Trance
and the Kyuss-loving doom of
Corsario Negro
for fuzzy rock and some acoustic workouts.
Course, not everything I'm listening to came in a padded envelope from Scotland.
I've also been spinning The Gargoyles'
Without End
. Released on the Sympathy label back in 1992, it's about as solid a slab of Stooges-styled rock as the decade saw.
Of course, you can't live by old style Iggy-philes alone, so I have some new-school Pop-fans as well, in the shape of the debut from Awesome Color. They even come from Ann Arbour.
Finally, I've been digging the thumping drums and triple-guitar attack of Roy and the Devil's Motorcycle. It's on the Voodoo Rhythm label, and therefore is both bad and good for you. They remind me somewhat of Jack Meatbeat and the UGS, the whacked-out predecessor to The Flaming Sideburns.