Well, that's it for Bluesfest. In terms of big names, it wasn't a good year, though perhaps my impression derives from my avoidance of the Main Stage. I spent my time camped out at the Black Sheep Stage on Sunday for a roster of Canadian acts - tempted though I was by the presence of Big Sandy and the Fly-Rite Boys on the MBNA Grassroots Stage.
I arrived around 3:00 p.m.;
The Meligrove Band
took the stage shortly after. I detected hints of The Cure, Sparks, and something noisier than either of those two acts. A very entertaining live act with lots of stage action and witty repartee. Here are Jason Nunes (in the shorts) and Andrew Scott.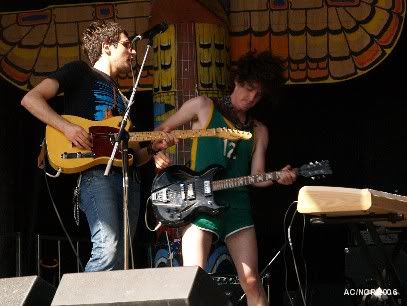 The Hi Lo Trons took the stage next. By now I'm sure no introduction is necessary. There was hair-pulling, belly-slapping and spanking. I shall elaborate later.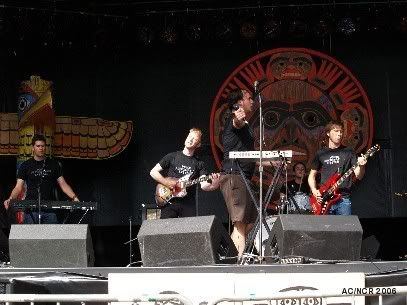 I wandered off for something too eat, then took in Controller.Controller's set. Last time I saw them I arrived for a quick three-song finishing dash as the opened for DFA 1979 at Babylon. I couldn't see much since I was wedged up against a wall (you may recall
the horrid photographic evidence
). This time I could see quite a bit more and caught the whole gig. Nirmala smiles (as she often does) while Ronnie rocks out on the bass.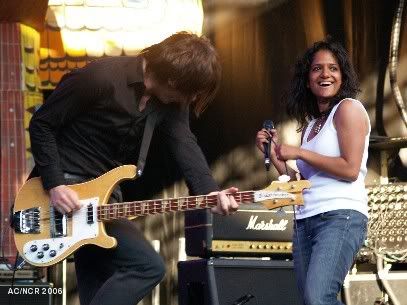 Then I sat on my bum and read Patrick O'Brien's
The Ionian Mission
as I waited for
The New Pornographers
. The MC tried to tempt the audience to head off to other stages in the lengthy intermission, but a good-sized crowd stuck around. Last time I saw The New Pornographers they played a very affable set at Babylon (predating my photographic era). Carl Newman and his niece Kathryn Calder sing along.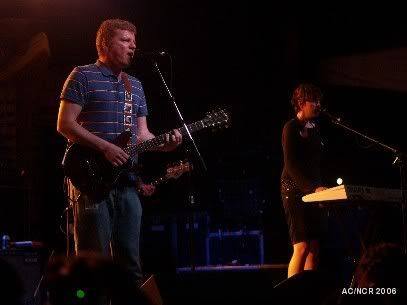 I'd say the major differences between that show and this one is that the band had two more hours to drink and they had Neko Case with them at Babylon. They were looser and funnier on that occasion. This set was much sharper and since they have more material to hand it was much stronger throughout. A fine capper to a good festival.