Thanks to some handy scheduling (for which I'll pay a horrible price in upcoming weeks) I managed to swing off two rock-heavy nights in a ray. On night No. 2 I went by Babylon to see Jay Reatard, The Holy Cobras and CPC Gangbangs courtesy of local promoter, music blogger and soon-to-be expatriate Calum Marsh. Locals
The Holy Cobras
opened with a brief set. The band features former Sweet Janes members (Danny Druff, formerly Grady Finch, Rodd and Chris along with new guy Daniel). They've divested themselves of some of their 77 punk leanings and headed toward The Cramps and The Gun Club. They stumbled into their own
Stormy Weather
, squealed and sauntered their way through another half-dozen tunes then called it a day. I picked up a copy of their new cassette on
Telephone Explosion
,
Keep Your Hands Off My Stuff
and it's cool too.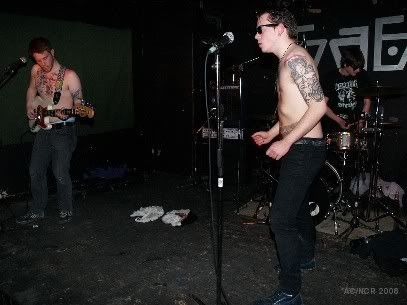 Holy Cobras - Daniel, Danny, Chris (at rear) - Babylon, April 16, 2008
Montreal sleazoids CPC Gangbangs held down the middle with a super set of sweaty Pagans influenced fuck-you punk rock. It was a first rate din. I think I've seen most of this entire disreputable lot in other incarnations. I saw Danny Marks and Roy Vucino many years ago in Los Sexareenos. Marks has switched over to drums while Roy still manhandles the six strings. Paul Spence used to be Lyle Sheraton in The Daylight Lovers (Roy was a member too, if memory serves). Any way, these guys don't need any more priors to get their trash rock merit badge. They nailed it right out of the gate and had the crowd thrashing about in short order.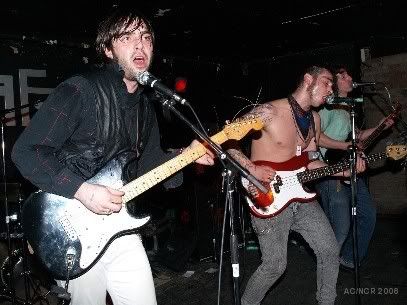 CPC Gangbangs - Roy Vucino, Tom Kitsos, Paul Spence - Babylon, April 16, 2008
Jay Reatard is riding a high in the wake of his critically acclaimed
Blood Visions
album. I personally prefer his more trashed out early stuff, but his newer output has much of the same manic vigor. In person he's got a lot more hair than I imagined and looks not quite old enough to shave. He came with a rhythm section of equally hirsute character. His bassist also had a Flying V, which was cool. He ripped his way through a few numbers before disaster struck. Bassist Stephen Pope fried his amp, and when he went to grab The Cobras combo jobby he was ordered off the stage to seek the CPC Gangbang's Tom Kitsos and his amp head. Reatard riffed for a while along with drummer Billy Hayes then declared "Let's play one without him!" and thundered through a bunch of tracks sans bass. By the time Pope was ready to play again, there was just one tune left in the brief set.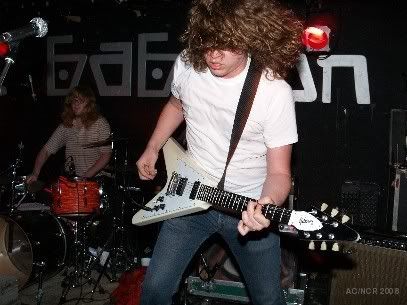 Jay Reatard and Billy Hayes (at rear), Babylon, April 16, 2008
None of these troubles prevented the audience from going crackers. There was lots of moshing and crowd-surfing and enthusiastic demands for an unforthcoming encore. A rocking set, but I liked the Gangbangs best.