I can't recall exactly where or when I first heard of Kelley Stoltz - a rave in
Mojo
perhaps? - but I do recall getting a copy of
Antique Glow
, his second album, at Birdman Sound. Actually, I might well have picked it up just because it was on Corduroy Records out of Victoria, Australia. It wouldn't have taken much to convince me his bedroom psych was my bag, because as a general rule that's one of my favourite genres of music. As it is, he's one of the best and
Antique Glow
immediately persuaded me to seek out his first album,
The Past Was Faster
, and I've gotten everything he's done since, including the introductory EP on Sub Pop, his two subsequent full-length albums and his reworking of Echo and The Bunnymen's
Crocodiles
. It's all been high grade ... but how well does Stoltz's bedroom translate to the stage? After last night's show I can say - very well. It helps that he's got a solid crew behind him:Sean Coleman on guitar, Kevin Ink on bass, "the legendary" James Kim on drums Mark Nelson on keyboards and Jamin Barton filling things out on sax, xylophone and theremin as required (and I do mean "and" - he sometimes played two instruments at once).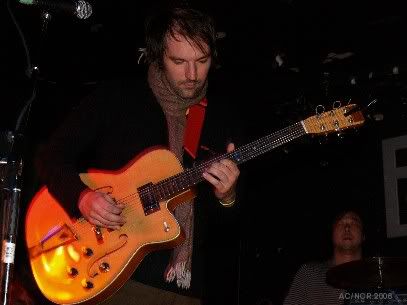 Kelley Stoltz and James Kim, Babylon, April 15, 2008
He started out with what he dubbed a "piano jam", ran through some of his San Fran psych and finished things off by inviting Pat Pantano of The Dirtbombs on stage to add some drums to a Warlocks style sonic throbber. It was a very well-received set. The audience wasn't too mobile and kept their distance - I suspect about 99% of them were entirely there for the headliner - but they did applaud enthusiastically at all the right moments.
For The Dirtbombs they bellied right up to the stage - as much as you can belly up to a stage that's only a foot of the ground - and were right into it as soon as Benjamin Blackwell came on to start the heavy beat which defines the DB sound, followed by fellow batterer Pantano, Ko Shih (who's switched from fuzz bass to a Jaguar), bassist Troy Gregory and mainman Mick Collins. I've seen them a bunch of times and have followed Collins' music since The Gories, through Blacktop, King Sound Quartet, The Screws, The Voltaire Brothers and The Dirtbombs. My appreciation had actually dipped a little (I haven't got their latest - still waiting for an expected review copy) but it's been rekindled by last night's dynamite set. The most prominent impression is that they sound sharper than ever. I also really liked their new stuff, enjoyed their cover of INXS'
Need You Tonight
(out now on an Australian single), and remember someone waving around one of Blackwell's shattered sticks.
The Dirtbombs - Ko Shih, Pat Pantano (at rear), Mick Collins and Troy Gregory -
Babylon, April 15, 2008
Their encore ended with the usual amount of chaos, with Blackwell wandering the stage wearing two drums over his head, Shish standing on his kick drum, Collins playing Pantano's drum while Pat conducted the rhythm and Gregory reclining on the stage left speaker stack. Blackwell wandered off stage, clambered back on (using my head as leverage) , lectured the crowd on their lack of shakin' all about and proceeded to coordinate a dance frenzy. I think he also tried to convince the crowd that Ilona and Daisy Szabo of The Felines, Jezebels, Hot Love, etc., were his sisters and had flown in especially for the show, but I was laughing too hard by that point to follow 100% of what he was saying.