Irene's is getting close to cornering the market on country rock in Ottawa; just a few hours ago I saw some veterans of the local music scene and some veterans of some other town's local music scene. First up were Rickity Ship with a more Velvet Underground-style take on frontman Darrell Angus' former outlet Golden Famile. Bassist Nate Hurlow and guitarist Richard Jeffrey were also Famile men, and Richard, Darrell and drummer Tim Matthews were also in the Half-Milers. There are a few other connections I won't get into. Let's just say "Music for Cats" and move along ... Oh, and Richard sang a cover of Pink Floyd's
Lucifer Sam
.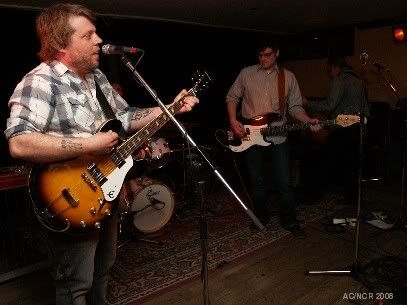 Rickety Ship, Irene's, April 19, 2008
Then Toronto combo The Shovels performed; country rock with originals and diverse covers - both traditional stuff (
Long Black Veil
) and less so (
Judy Is A Punk
). It was a swell show including a lot of dancing during the slow songs and twisting during the faster numbers.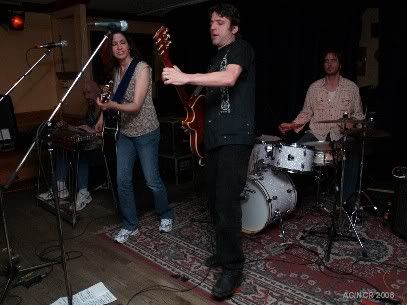 The Shovels, Irene's April 19, 2008
These folks have resumes that include Jay Clark and The Jones, The Sin-Tones, Dodge Fiasco, The Midways, Heatseekers and Suckerpunch - actually that's just drummer Sean Dignan. I know guitarist Todd Gallant was in Jughead; I'll have to check out what steel man Larry Thomas and guitarist/vocalist Julie Tobbogan (to say nothing of bassist Jake Summers, off to the right outside the frame in the above photo) have done sometime when I'm less tired.