Alright, here's a few snaps from last week's Sedatives show at the Bytown Tavern. It was kind of dark and the focus on most of my photos was a bit dodgy, but you get the idea from the half-dozen survivors ...
First we have Ian Manhire:
record label operator
, zine writer, bicycle adopter, Cryptomaniacs drummer,
White Wires guitarist
and yes, Sedatives organist.
Steve Adamyk, late of the Million Dollar Marxists, and Emmanuel, of Buried Inside do some of the punk rock singalong stuff.
Emmanuel also plays guitar in Buried Inside.
Drummer Dave Williams, like Emmanuel, is a refugee from Last Communion (where he played guitar).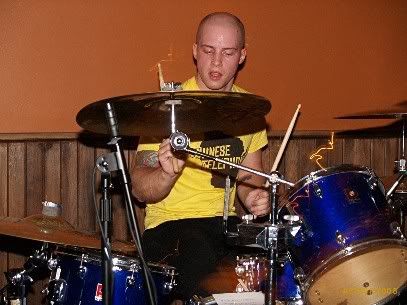 Yet more singalong action!
Everyone's doing it.
Big finish!
If you're hankering for some Sedatives, you don't have long to wait: The play on Friday at Cafe DeKcuf with The Creeps and Sexhead. There are also a couple of Monteal dates in the works.