Ty Hall and The EZ3 break with current indie band naming trends by actually containing a member whose name is Ty Hall and having three other people with him. For the chunk of the show I witnessed, Hall and his accompanying trio played an amalgam of urban R&B and nu reggae with a cover of Bob Marley's
I Shot The Sheriff
. I'm not thrilled by either form; despite being a big fan of rhythm and blues and appreciating old school reggae (Culture, The Congos, Heptones, The Abyssinians, Peter Tosh, etc.) and not so thrilled by their modern offspring. Thus THEZ3 weren't really scratching my musical itch on Monday last week. A lyrical fixation on the ladies wasn't helping either (the fixation part, that is, not the ladies part). I'll give them credit for being a sharp combo. Their audience won't be embarrassed to say they like 'em, but I'm not part of it.
Ty Hall sings!
Rob Kent shows off his moves.
Trevor Grey keeps the beat.
Nick Beaton burns up the frets.
And so on!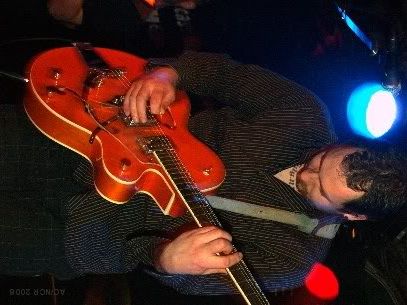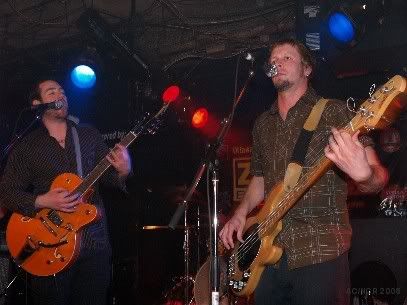 They've got several shows lines up; including a CKCU appearance May 1 and a show at the Bass Line Station the following day - then they head west.
Show reminder: The Dirtbombs and Kelley Stoltz play Babylon.