The Soft Disaster
played next; I thought they were even better than they were the last two times I saw them; they really have the slow-building indie-rock style down to a T.
This post is named in honour of some brief repartee between singer guitarist Tim Brownlee and someone in the audience regarding some lyrics:
TB: "Despite the mention of Greyhound in that song, it does not constitute an endorsement"
SitA: "Why not?"
TB: "Because they @#$!ing owe me!"
They began their set with some melodica tootling from Bryce Colebrander.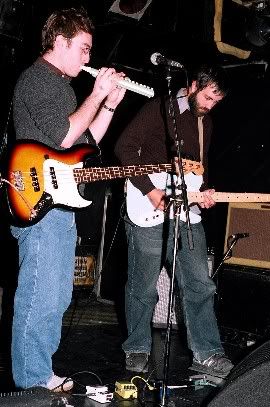 Drummer Nic Paradis ... I'm still kicking myself for not taking more stagelit pictures.
Tim Brownlee in another nice stagelit picture ... (
other ones
didn't turn out so nice ... )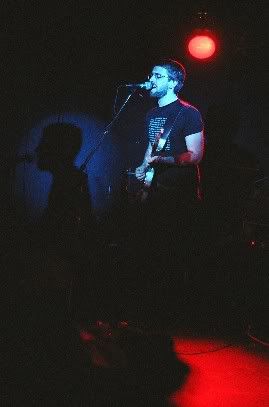 Jeff Debutte put in a few extra grimaces.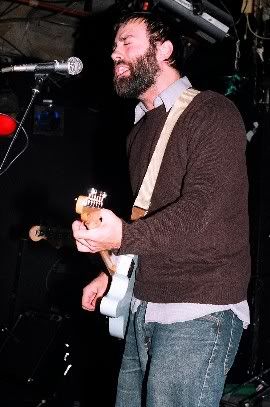 Yes, Zaphod's has their Christmas decorations up ... either that or Tim is actually the Baby Jesus.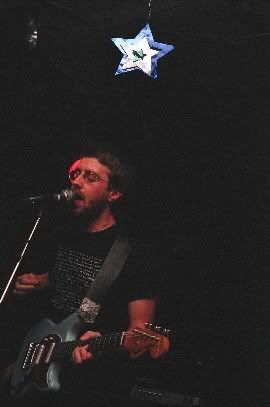 Disaster action!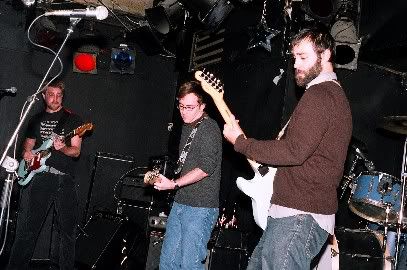 More Disaster action!
Their next release,
Rough/Stalls
, is due in early 2006.
Show reminder: Blackball play The Aloha Room tonight.