A few months back
Books on Books
opened for Collapsing Opposites (it was their first show and precipitated the naming of the band). I arrived to late to catch them, but everyone said they put on a good show. They've played a few shows since then, and I've managed to keep missing them ... well, until last Friday when I went to see them with J'envoie and Toronto's Spitfires & Mayflowers. Apart from Ryan Hough (of whom there are many photographs on the site, playing violin for both Golden Famile and in company with Saint Bernard of Love Michael D. Wieland), there are a few former Wandering Lifesign guys and one Loophole. Musically I thought BoB sounded a bit like NY art rock (particularly Blonde Redhead), though neither of the singing Ryans sounds like a breathy Japanese equestrian.
Anyway, the venue had been decorated with Christmas lights, but the stage was so dark I had trouble focusing on stuff ...
I did manage to take a good picture of Ryan Neeb - it's a miracle I say.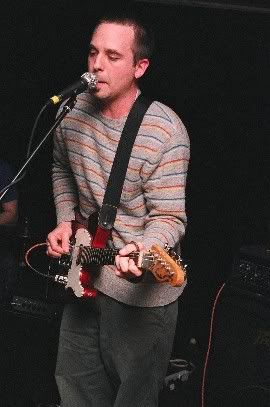 The other Ryan in action (on a borrowed guitar).
Drummer Conrad Amenta is not taking the whole picture-taking experience completely seriously, I think.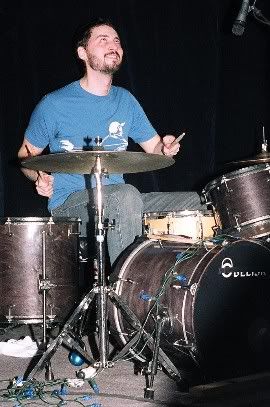 Bassist Scott Adams is a newly minted dad.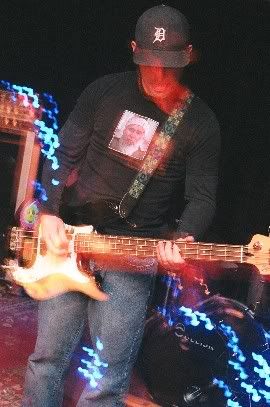 Ryan sings, Scotty basses (and if you really need another picture of Ryan H. on violin,
click here
).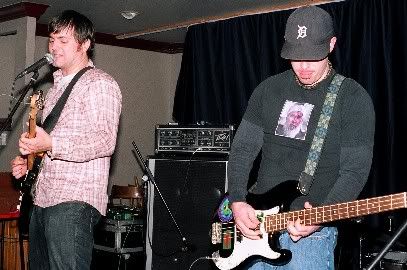 Scott and Ryan N. work the feedback.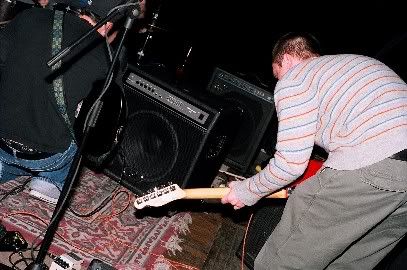 Show's over, but Ryan plays on.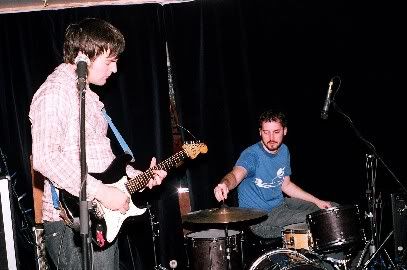 Anyway, they were a good opener: Good singing and intelligent lyrics with a propulsive, post rock rhythm section.
Show and shopping reminder: Ladyfest is holding its annual craft sale at the Montgomery Legion Hall at 330 Kent from 10 a.m. to 5 p.m. Four-Stroke, Contrabandit, Loki, The Valveenus and The Not-C's play Club SAW - doors at 4 p.m.