Christmas is a time for reverie, and naturally our minds turn to the birth of the man who best exemplifies the season: Danzig. Yes, the happy gnome who lives at the North Pole and delivers studded armbands and skull beltbuckles to boys and girls who wear a lot of black the world over. My mind also turned back to that time I saw Hot Piss open for the appropriately named Toilet Boys, who almost torched Lucky Ron's in general and me in particular when they played there in May of 1999.
That was the first time I set eyes on Blake Jacobs. Back then he was a fresh-faced, clean cut youth who played in a hazmat outfit and wore meat on stage. Nowadays he's the Grizzly Adams of rock, the kung-fu Santa of sledgehammer riffs, and plays with a similarly-meat-loving outfit, Manpower, with Slo' Tom Stewart and Deadly Dave Dudley (who was also in Furnaceface with Tom).
Manpower - masters of disaster! Overlords of metal! Brainiacs of something that starts with B! There are many metal bands who wear red robes and huge novelty brains, and Manpower is easily in the Top 5. They played a Christmas show at The Aloha , a fine performance that culminated in Manadian Idol ...
Tom prepares to fight the power!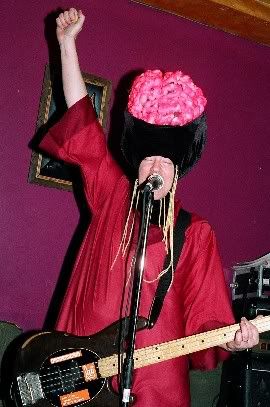 Blake gives a kick.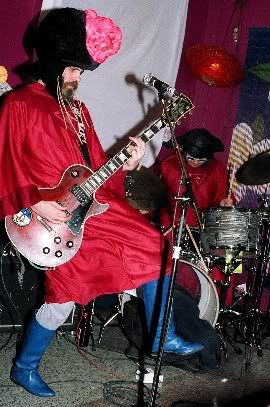 Dudley does drummage.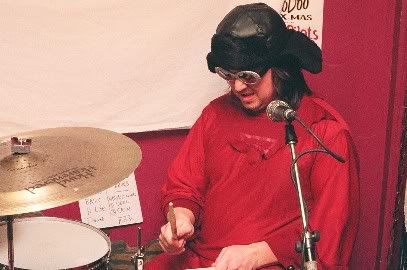 Blake is silhouetted by the audio-visual component of the Manpower experience.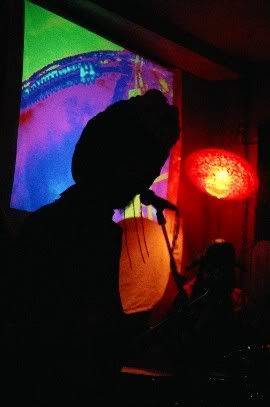 And of course Blake's guitar strap has a message for the audience.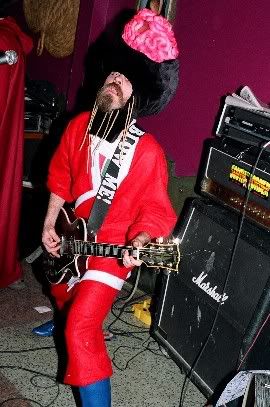 After thumping their way through their own tunes, it was time for
Manadian Idol
, with three contestants offering their version of Danzig tunes. Joshua Grace was the first up: "Let's do this, little man!"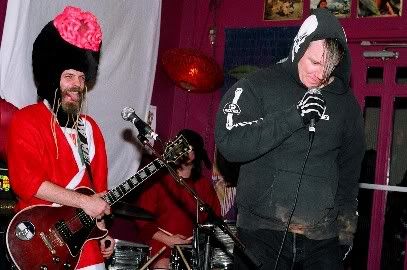 Not only did Joshua have an appropriate croon for his rendition of
Devil's Plaything
, he went the extra mile costume-wise.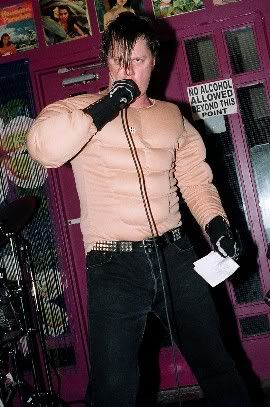 Next up, Luke Nuclear with
Black Wings
...
Last, Michael "Danzig Who?" Hurtz of The Sick Fits did
Twist of Cain
... "It's about Christmas!"
Tom and Blake pay metal respect to the Danzig performers!
And all three contestants received a diploma from Manada University ("It's the only degree I have!" Luke declared) and a wristband of some sort. Dave Quesnelle of
Robot Kill City
walked into the shot just in time to provide me with an excuse to mention RKC's last show at Mavericks Jan. 4.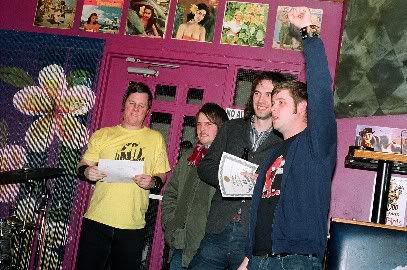 I almost forgot - here's the ultimate symbol of Christmas: Manpower's meat tree!
Happy whatevah to everyone!