Club SAW, Sunday afternoon. Five bands attracted 40 people to an AA punk show. The organization was a little slow at getting started, but after some cash for the float was located and a brief soundchecking things kicked off with the Not-Cs. Bass, drums and ululation. A bit like The Urinals, but more nonsensical.
First, a big walk from Alex!
Then you've got bass playing by Drew Collier ...
... and drumming from Darren Jones.
Both Drew and Darren are in
The Valveenus
, along with guitarists Matt Rochon and Cory Levesque.
Matt Rochon gets all bendy.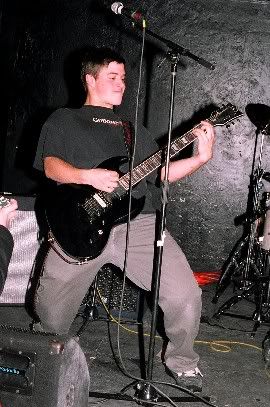 I thought I snagged a good picture of Cory, but afraid not - well, next time.
Here's another picture of Jones - a very hardhitting drummer with a lot of technical skill. It was a very good afternoon-to-evening for drumming.
More Drew ... with a harmonica. Can a Bob Dylan cover be far behind? Well, probably yes ...
The Valveenus' have a demo out,
Back to You
. Their next show is at Cafe DeKcuf Dec. 17 along with The Creeps, Runt, Willy and the Robot Masters, Clepto and Loki, about whom more tomorrow, since they were the next group to perform.